The first phase of dam building on the Ma River for the Trung Son hydroelectric project was launched in the central province of Thanh Hoa on December 1.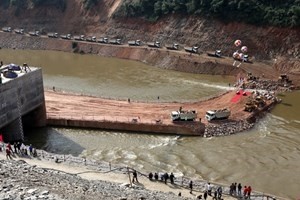 (Photo: VNA)
Deputy Prime Minister Hoang Trung Hai attended the ceremony held in Trung Son commune, Quang Hoa district.
Addressing the event, the deputy PM lauded local authorities, the project's investor and the constructors for their great success in land clearance and other preparatory work for the multi-purpose project.
He urged the provincial People's Committee and local authorities to implement the resettlement work and ensure a better life for people asked to move.
The project is the first of its kind in Vietnam to be financed by the World Bank, which is providing 80 percent of its total cost (US$330 million). The remaining amount is being funded by Trung Son Hydropower Co Ltd, a subsidiary of the Electricity of Vietnam, which is the project's investor.
With a capacity of 260 MW, the four-turbine plant is expected to generate over 1 billion kWh to the national power grid every year. It will also provide water, help control floods in the lower reaches of the Ma River and create a momentum for socio-economic development and poverty reduction in Quan Hoa district.
Notably, the project will contribute to Vietnam's climate change programme by generating clean energy and avoiding the production of an estimated 1 million tonnes of carbon dioxide per year.
The project's construction, which began in November, 2012, is due to be completed in August, 2017.