Dang Thi Hoang Yen's eligibility as a National Assembly Deputy of Long An Province is under question over inaccuracies in her personal profile statement, said Vo Le Tuan, Chairman of the Long An Committee of the Vietnam Fatherland Front on April 17.
The Long An Committee of the Vietnam Fatherland Front held an unscheduled meeting on Tuesday to reconsider Yen's eligibility as a National Assembly Deputy, after she failed to disclose information on her 57-year-old husband, Jimmy Tran, a Vietnamese-American who is being hunted by the police for fraud offences, said Vo Le Tuan.
Tuan also informed that the Provincial Committee of VFF had conducted consultative meetings and secretly voted on Yen's status as a VFF and National Assembly member.
Local authorities had certified all personal records of candidates and transferred the information to the VFF Central Committee, for review by the Central Committee, Tuan said.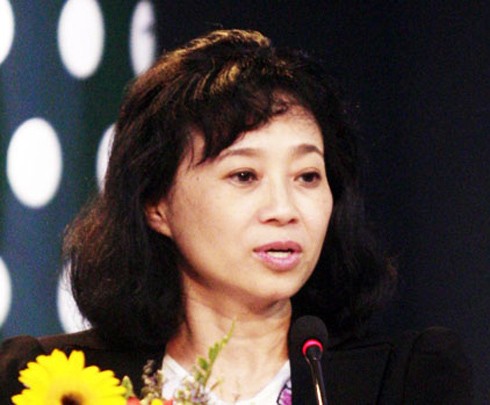 Dang Thi Hoang Yen (Photo: Vietnamnet)
On the morning of April 18, the Fatherland Front Central Committee held a meeting to discuss any clarification on papers presented by Yen, the NA Deputy of Long An Province and also chairwoman of Tan Tao Group, Tan Duc Investment and Industry Joint Stock Company and the Tan Tao University.
The meeting was conducted at the request of the NA Standing Committee, which will also discuss Yen's case in its meeting scheduled in early May, Tuan said.
VFF is responsible for re-examining the eligibility of any NA deputy who is facing issues that affect their prestige and dignity. 100 percent of the members of the VFF Presidium voted against Yen's eligibility and will submit its proposal to the NA Standing Committee to remove Yen from the position of a Parliament member.
Under applicable laws, a NA deputy can be removed from NA membership for false declaration of his or her records.
Records show that Yen only declared in her profile statement that her husband was late Nguyen Tri Hai, who died in 1989, and did not mention her current husband, Jimmy Tran. Though she sought a divorce from Tran by filing a petition at the Long An Province People's Court in July 2010, Yen recently withdrew the petition after the court's verdict on the divorce case was cancelled.
On September 16, 2011, the Ministry of Public Security prosecuted Jimmy for "abusing trust by inappropriate assets" while he was director-general of Vietnam Urban Development Joint Stock Company in Tan Duc Industrial Park in Long An Province.
Yen and Jimmy are judicially still in a marital relationship and all their assets and debts remain their joint responsibility.
Besides, 53-year-old Yen was also accused of writing incorrect facts about her Non-Party activities when she ran for the NA elections in May 2011. In her candidacy profile she stated she was a candidate outside the Communist Party of Vietnam, but in fact she was already a Party member, according to the Long An VFF Committee.
Late in 1985, Yen was a member of a few Party Units in District 5 of HCMC, but subsequently ceased her involvement as a Party member over a period of time.