Hospitals and medical centers that fail to properly treat waste will be severely punished, recently announced the HCMC Department of Natural Resources and Environment (DoNRE).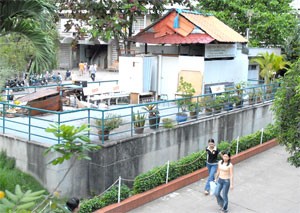 A canteen is built right on the surface of a sewage pond in An Binh Hospital, HCMC 

The warning was given after the department discovered only 78 of 109 hospitals and healthcare centers were equipped with waste treatment systems and most of them are in a degraded condition or even worse, out of service.

Furthermore, untreated sewage increased to an alarming level of over 17,000 cubic meters per day; analysis showed that those water samples are highly over-polluted and have the potential to cause severe diseases to humans.

Thus far DoNRE has worked with the Health Department to inspect 118 medical units of which 15 were fined around VND94 million.

However, it seems that stricter measures are needed. Mr. Nguyen Van Chien, DoNRE vice director, said the department has proposed to the city People's Committee an allocated budget for waste treatment in the city-based hospitals and medical centers.

DoNRE will also make regular inspection tours and strictly punish those who fail to meet waste treatment standards.