The oldest defendant in the trial of 18 Russian youths charged with the murder of a Vietnamese student has retracted a confession the prosecutor tendered as evidence.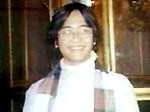 Vu Anh Tuan

Under cross examination on Monday, 20-year-old A. Deberdeyev told a St. Petersburg court that the police had forced him to confess to killing Vu Anh Tuan.

Based on this confession, police had then rounded up 17 teenage gang members and likewise charged them with the murder of the St. Petersburg Polytechnic student on December 13, 2004.

All 18 were in court on Monday, but most of the prosecutor's questions were directed at Deberdeyev.

Also present was the vice president of the Vietnamese Association in St. Petersburg, Mr. Nguyen Duc Toan, who is representing the victim's family.

The notorious trial has already been delayed once, much to the dismay of Anh Tuan's relatives and many people in Viet Nam and Russia who were shocked by the murder.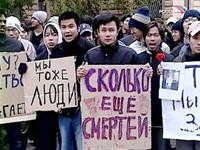 Vietnamese and foreign students demonstrate in the streets of St Petersburg demanding that the trial be resumed (Photo: Vesti)
After the first delay, many groups of Vietnamese and foreign students demonstrated in the streets of St. Petersburg clamoring for the trial to resume.

According to the prosecution, Vu Anh Tuan was killed at ten o'clock in the evening of December 13, 2004 in Lev Tolstoi Street by a gang of 18 drunken Russian teenagers who had tried to pick a quarrel with him then stabbed him 37 times to death.

During their investigations, the police found that the gang's members were responsible for other crimes as well.

The trial is likely to last several days more.