Authorities in the central highland province of Dak Lak have not only permitted but also created favourable conditions for businesses to indiscriminately log forests to make way for rubber plantations.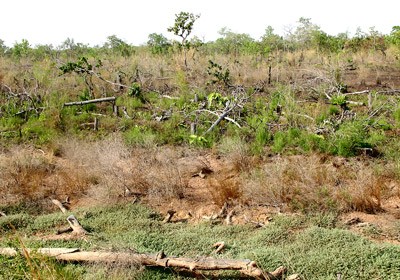 A 20 hectare area under protective forest, indiscriminately logged to make way for a rubber plantation in Ya To Mot Commune in Ea Suop District in Dak Lak Province (Photo: SGGP)
The provincial People's Committee and other relevant departments have given several businesses preference in investment procedures, to illegally log forest land to make way for their projects.
 
Forty-three businesses have been allowed to grow rubber trees on 30,000 hectares of forest land under a Government policy that allows for use of degraded forest land for rubber plantations.
Several of the above forest land should not have been permitted access. The provincial People's Committee has trespassed protective forest land under the pretext of Government policy to license several projects, subsequently devastating thousands of hectares of precious forests.
According to the Government plan for rubber plantations, Ya To Mot Commune in Ea Suop District and Krong Na Commune in Buon Don District were permitted to develop 450 hectares for rubber plantation by 2020.
However, the provincial administration handed over 1,980 hectares to businesses for this purpose.
Besides, when implementing a pilot project over 600 hectares, the province allotted upto 5,608 hectares to six businesses, suspected to have good ties with a senior leader.
Moreover, eight projects have been approved for protection of 1,792 hectares of forests in the province. But the people's committee decided to release the area to other businesses, for clearing of the forest to make way for a rubber plantation.
After the Government announced its policy to convert degraded forest land into rubber plantations, Nguyen Phuoc Ray, director of Dak Nguyen Company in the southern province of Tay Ninh, established several companies to acquire as many rubber plantation projects.
Dak Nguyen Company is said to belong to a leader in Dak Lak Province.
Ray's companies managed to acquire over 4,000 hectares of forest land on a 50 year lease for VND7-10 million per square metre a year. More so, projects implemented by his companies were exempt from lease payment for a period of 18 years.
Within two years of this Government policy, a vast forest area has been illegally felled and ravaged.
Almost 65,000 cubic metres of wood logs have been sold, profits of which have gone straight into some individual pockets or private organisations, not the State.
Related articles:
Large protective forest area destroyed in Central Highlands
Protective forest exploited for rubber plantation