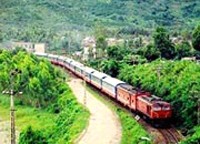 Train TN5 departs at 1pm Monday, following by the operation of other routes as schedule.
The national flag carrier Vietnam Airlines announced the resumption of all local flights on Monday morning, while most of train routes were unblocked after typhoon Xangsane hit the central region Sunday.
Spokesman for Vietnam Airlines Mr. Nguyen Tan Chan said that all domestic flights have resumed from 7am Monday and all local airports, even to typhoon-hit areas like Da Nang city and Nha Trang, also reopened on the same day.
Vietnam Airlines is planning to operate supplemental flights in a bid to meet the urgent demand of traveling of local passengers who were blocked in Da Nang and Hue cities due to typhoon.
According to Head of Vietnam Airlines' Flight Operational Center Mr. Le Ngoc Long, passengers could change their flight destinations and dates without charge.
Meanwhile, the Vietnam Railway Corporation (VRC) announced that all train routes are resuming.
Although the North-South routes TN1, TN2 were still delayed at their departure in Ha Noi, train TN5 has departed at 1pm Monday, following by the operation of other routes as schedule.
However, only 30-40% of the tickets were booked during the day, according to Mr. Vu Dinh Dau, Manager of the Ha Noi station.
Three days ago, Vietnam Airlines had announced route changes for international flights and the delay of some fifty local flights, while schedules for flights from Hanoi to Ho Chi Minh City remained unchanged.
The VRC, on the other hand, had announced the postponement of some trains for three consecutive days beginning Saturday.
Related link: