No exceptions should be allowed in the fight against smuggling, trade fraud and counterfeit goods, Deputy Prime Minister Truong Hoa Binh said yesterday.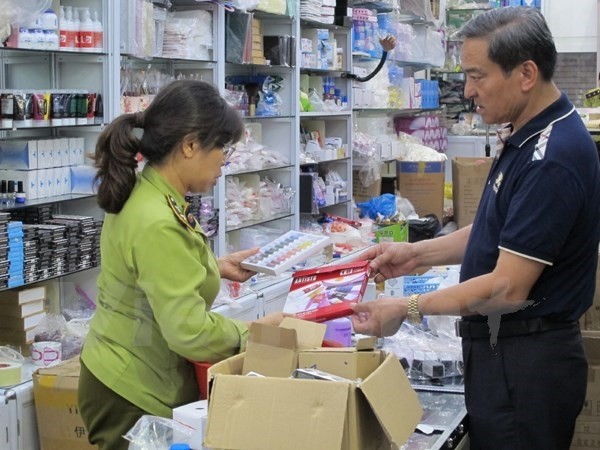 Authorities inspect cosmetics in Hà Nội. — VNA/VNS Photo Đức Duy
The deputy prime minister, while working with National Steering Committee 389 for Anti-Smuggling, Counterfeit Goods and Trade Fraud, of which he is also the head, pledged to take more resolute actions to strictly punish all violators, including Government officials who directly take part in or protect others engaged in smuggling, trade fraud and counterfeit goods.
Speaking at the working session, Bình said no areas should be off limits in the fight, and stressed the determination of the Government and authorities of all levels against such social and commercial deplorability.
He highlighted remarkable achievements that the Government and authorities have made against the illegal activities since earlier this year, stating that it helped to boost not only domestic production and trade, but also to ensure national market and social security.
In particular, he said, the active and enthusiastic participation of mass media, as well as political and social organisations, was proof that there had been positive changes in society to take action and raise awareness of the issue.
However, Bình said the domestic market was facing a more complicated expansion and increase in smuggling cases and trade fraud. As a result, he asked the committee to guide ministries, agencies, localities and competent agencies to adequately perform the tasks put forth in the Government's Resolution No 41/NQ-CP, dated June 9, 2015, on stepping up efforts against smuggling, trade fraud and fake goods.
In addition, Bình said more efforts should focus on inspections in a bid to bring to light those tolerating these bad deeds or not fulfilling their assigned tasks.
In the same vein, the committee needed to complete relevant mechanisms and regulations to closely supervise the temporary import for re-export model, as well as business activities relating to food safety, the deputy prime minister requested.
Another job is to raise public awareness of the harmful effects caused by smuggling, trade fraud and counterfeit goods, he said, urging the committee to play a more active role in learning about serious cases of public concern and to closely coordinate with the press, socio-political organisations and associations in this regard.
The committee reported that in the first five months of this year, especially during the Tết (Lunar New Year) festival, complex smuggling and trade fraud cases took place nationwide due to increasing consumption demands.
Violations mainly occurred in border areas and via air and sea routes with the main smuggled goods including drugs, firecrackers, explosives, oil and gas, wild animals and their products, wine, tobacco, food, pharmaceutical products, cosmetics and electronics.
Notably, there have been organisations and individuals illegally using chemicals and additives in production, cultivation and animal husbandry, which have potentially affected human health and sparked public concerns.
Thanks to the committee's guidelines, efforts to combat these activities, particularly in major cities and border provinces, have shown positive signs, contributing to ensuring national security and social safety.
From January to May, competent agencies handled more than 78,300 cases of smuggling and trade fraud and contributed nearly VND5.3 trillion (USD$238.8 million) to State coffers.
The most noteworthy cases involved the seizure of 1.84kg of cocaine at HCM City's Tan Son Nhat International Airport; 143.5kg of elephants tusks and their products at Nội Bài International Airport in Ha Noi; and 42,000 methamphetamine pills in the central province of Quang Tri.