Deputy Prime Minister Hoang Trung Hai requested rescue forces and administrations of flood-hit localities to promptly move residents still stranded in inundated areas and danger-prone areas to safe places.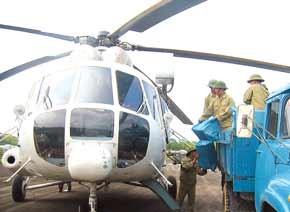 A helicopter carries relief to flood victims in worst-hit Lao Cai Province
He was working with the Central Steering Committee for Flood and Storm Control and representatives of relevant ministries and agencies in Hanoi on Aug. 11 to seek ways to assist isolated and flood-hit northern communities.
Deputy PM Hai asked those agencies at the same time to work on plans to cope with possible floods forecast to occur in the wake of a low tropical depression, which is currently off the coast of northern Thai Binh and Thanh Hoa provinces about 180 km.
According to the Central Hydro-meteorology Forecasting Center, the low tropical depression is moving at an average speed of 10 km per hour, likely causing heavy rains in northeastern localities and northern area of Viet Nam's central region from Aug. 12.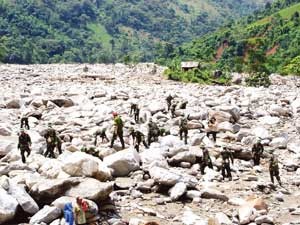 Soldiers and local residents search for dead bodies in Bat Xat, Lao Cai Province (Photo: SGGP)
According to the latest figure, in the worst-hit Lao Cai province which borders China, 86 people have been killed and listed as missing, 37 injured. Around 1,000 local and foreign tourists remain marooned in the locality due to blockage in traffic.
The Head of the Central Steering Committee for Flood and Storm Control Minister Cao Duc Phat, who arrived in Lao Cai province to instruct rescue and relief work, said traffic jam on highway 70 was very serious, many vehicles and passengers were stuck and residents in isolated areas were in short of food.
At present, troops and disaster relief personnel are trying to reach isolated and water-logged areas to deliver food, water and medicines to the locals and stranded visitors.
The Central Steering Committee for Flood and Storm Control ordered northern local authorities to check dykes along the swollen Red and Thai Binh Rivers as possible floods have been forecast.
The Viet Nam Fatherland Front Central Committee doled out 1.6 billion VND from its natural calamity fund for flood-hit provinces, 400 million VND of which was reserved for the worst-hit Lao Cai province.