Speaking at a meeting on crime prevention and control in Hanoi and Ho Chi Minh City on April 15, Deputy Prime Minister Nguyen Xuan Phuc said police must strengthen efforts to curb crime in both the cities.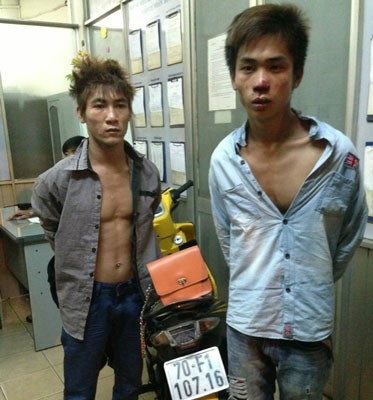 Two street robbers recently arrested in Ho Chi Minh City (Photo: SGGP)
At the meeting, Lieutenant General Le Quy Vuong, Deputy Minister of Public Security, presented the results of the first quarter of the year, as well as plans for the next quarter.
Vuong highly appreciated the great effort made by the HCMC People's Committee and local police in driving back crime in the past month. 
Traffic wardens, emergency police, mobile police, crime police, task force units and local governments have worked synchronously to fight crime and promote cooperation among residents to crack down on criminals. 
For example, 141 model in Hanoi and 622 model in HCMC boosted coordination in local people to collectively fight criminals, an example that has been replicated in many parts of the country.
Thanks to such efforts, the numbers of criminal cases over the past months have declined and many serious crimes have been averted.  However, the local police force should be strengthened, in both personnel and method of operation, so that they can improve their efficiency in combating crime more effectively.
There have been fewer cases of crime in fields such as economy, corruption, drug trafficking and so far around 11,000 criminal offences have been investigated.
Police busted 500 criminal gangs and seized 25,000 criminals. Economic and corruption-related cases were 34.5 percent, environment crimes nearly 26 percent, and drug trafficking 32.8 percent.
In big cities like Hanoi, HCMC, the northern province of Hai Phong, the central city of Da Nang and the Mekong Delta city of Can Tho, over 2,000 cases were reported. Police force conducted patrols and checks on many streets in districts to detect and handle violators of traffic rules or regulations on social order and safety.
The Deputy PM has ordered the police force to continue their battle against crime, reduce manslaughter, human trafficking and hi-tech illicit activities. Local governments should apply the two effective 141 and 622 models in Hanoi and HCMC to strength and support local people to fight criminals.
Deputy PM Phuc said the Ministry of Public Security must maintain both social and traffic order on occasion of all the country's festivals.