Deputy Prime Minister Nguyen Xuan Phuc, chairman of the National Traffic Safety Committee, has asked three ministries of Transport, Health and Information and Telecommunications and provincial people's committees to intensify conducting occupational health check-up for drivers from transport companies.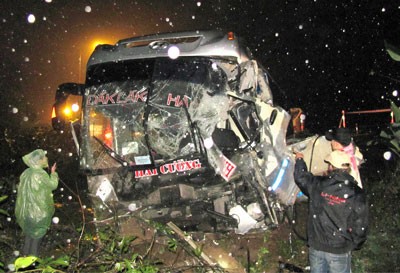 Two dead and three injured in a passenger bus accident in Thua Thien-Hue Province (Photo: SGGP)
Traffic accidents have reduced in both case and casualty number after five months since the Year of Traffic Safety 2014 was implemented, he said. 
However, the number of serious traffic accidents related to transport businesses is still high. Several cases have been caused by drivers who do not have the good heath, Mr. Phuc said. 
He instructed local authorities to soon complete health check-up for drivers of transport businesses in their provinces and report the National Traffic Safety Committee and the Ministry of Transport before July 15. 
Provinces and cities have yet carried out the driver medical check-up must immediately begin, he added.