QUANG NINH (VNS) — The north-eastern Quang Ninh Province should lead in implementing the Government's resolution on measures to improve the investment environment, said Deputy Prime Minister Hoang Trung Hai.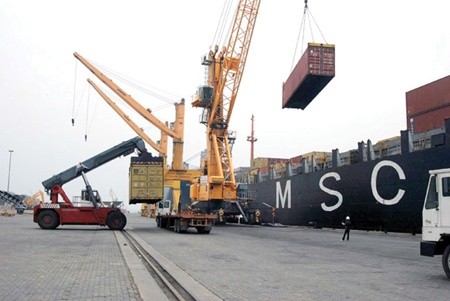 Goods are loaded for export at the Cai Lan Port in north-eastern Quang Ninh Province. Deputy Prime Minister Hoang Trung Hai said last Saturday at a conference promoting investment that the province needed to build modern infrastructure to tap into its full potential. — VNA/VNS Photo Manh Tu
In his speech delivered at a conference on promoting investment and improving provincial competitiveness held on Saturday, Hai said the province should focus on building modern infrastructure to make the fullest use of its potential and advantages.
The province needed to build a sustainable socio-economic development model along with ensuring security and defence by 2020, adding that it should prepare to develop Van Don district into the first exclusive administrative and economic zone in the country, he added.
Special attention must be paid to the transport system, including the road linking Ha Long City with the Ha Noi-Hai Phong Highway, the Ha Long-Van Don-Mong Cai Highway and the Van Don international airport, he said.
Nguyen Van Thanh, Vice Chairman of the Quang Ninh People's Committee said the province has seen improvement in its competitiveness, taking the fourth position out of 63 cities and provinces nationwide in term of provincial competitiveness index in 2013.
It was a rise of 16 places from 2012, Thanh said, adding that Quang Ninh Province also took the 4th place out of seven localities which have excellent quality in economic management.
Quang Ninh has granted investment licences to 39 foreign direct investment (FDI) projects capitalised at more than US$1 billion and 205 domestic projects at nearly VND114 billion ($5.4 million) over the past two years.
Its annual GDP growth has reached more than 7 per cent over the two-year period, higher than the national average. The province has always been in the top five localities in terms of budget revenues.
Its GDP per capital last year was $3,000.
It also revealed that over 130 delegations of foreign investors, including conglomerates like Las Vegas Sands, Texthong and Amata groups had recently conducted fact-finding tours in the province seeking co-operation opportunities.
"These figures were proof of the province's efforts in implementing reforms," said Pham Minh Chinh, Secretary of the provincial Party Committee, adding that it had gained trust from investors and businesses operating in the region.
Chinh said the province had set a target to become a stable and attractive destination for investors with an aim to maximise capitals, technologies and management experiences.
It has striven to attract investment of $2.6 to $3 billion a year of which FDI would account for over $1 billion.
Dau Anh Tuan, head of the Viet Nam Chamber of Commerce and Industry's Legal Department said, according to its latest survey on investment attraction and competitive capacity, the province has been one of the 12 that enterprises rate as attractive investment destinations.
The interest of companies to invest in Quang Ninh Province was due to its high PCI and improved infrastructure as well as administrative procedures, Tuan said.
Le Khac Hiep, Vice Chairman of the BIM Group which has operated in the province for over 20 years, told the conference that the province's authorities have always supported businesses quickly.
Atsusuke Kawada, chief representative of the Japan External Trade Organisation (JETRO), spoke highly of the province's potential as well as chances of investment in the province in the time to come, and stressed on the importance of building trust among the investors.
To do this, local authorities should fully realise what they have promised to enterprises and announce concrete indices on the quality of trade promotion activities, he added.
Over 450 representatives of the local business communities attended the conference and discussed co-ordinated marketing efforts aimed at increasing the investment attractiveness of the province.
Talks among policy makers, investors and economic experts were also held on the same day to discuss optimal solutions for improving the quality of investment attraction and competitive capacity for businesses.