Deputy Prime Minister Nguyen Thien Nhan will hold a dialogue with 90 young intellectuals at the Government Office on March 23.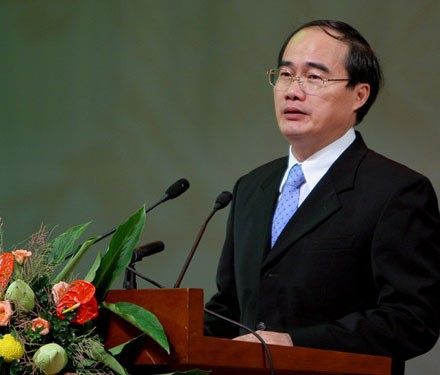 (File) Deputy Primie Minister Nguyen Thien Nhan
This was announced at a press conference in Hanoi on March 19, to introduce the big events of central union agencies during 2011.
Young intellectuals will have an opportunity for direct discussions with the deputy PM on various issues such as how to create a good working environment, build opportunities for young people to develop their talents and help improve knowledge facilities for young people to merge in the international arena.
In related news, Ho Chi Minh City authorities held a meeting with cadres, union members and outstanding young people of the city on the subject of "Joining Hands to Build a Heroic City."
The meeting was organised by the HCM City Communist Youth Union to mark its 80th anniversary. Le Thanh Hai, the city Party Committee Secretary graced the occasion.
At the meeting, nearly 140 participants expressed their wishes and expectations to the city leaders and proposed measures to build a more civilized and modern city.