Deputy Prime Minister Vu Van Ninh is paying an official visit to Canada, from December 2-4, as he seeks to strengthen relations between both countries.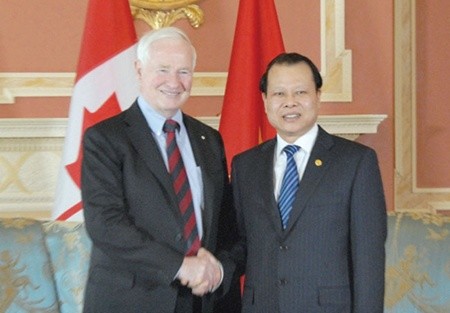 Deputy Prime Minister Vu Van Ninh meets with Canadian Governor General David Johnston yesterday in Ottawa, Canada. — VNA/VNS Photo
On Monday, the Deputy PM met Governor General David Johnston, Speakers of the Canadian Senate Noel Kinsella and House of Commons Andrew Scheer, Minister of Citizenship and Immigration Chris Alexander, and Minister of State for Finance Kevin Sorenson.
At the meetings, discussions concerned measures to increase bilateral friendship and future cooperation in all fields, while sharing their views on a number of regional and international matters of mutual concern.
Those attending the meetings also expressed their pleasure at the development of bilateral ties, 40 years after establishing diplomatic relations.
Deputy PM Ninh reiterated that Viet Nam attaches much importance to developing a long-standing, sustainable and comprehensive strategic partnership with Canada.
He proposed the two sides increase exchanges of delegations and step up cooperation in areas such as trade, agriculture, energy, oil and gas, science and technology, as well as education and labour.
He also voiced his desire to increase meetings between the two parliaments and people in order to further deepen mutual understanding and enhance friendship.
The Deputy PM further proposed that the Canadian Government and parliament create more favourable conditions for the Vietnamese community to better integrate into Canadian society.
Viet Nam supports Canada's efforts in strengthening relations with ASEAN member countries and those in the Asia-Pacific region, he added.
For their part, the Canadians lauded Viet Nam's success in socio-economic development and international integration, affirming Canada's interest in boosting ties with Viet Nam as part of its general policy for the Asia-Pacific region.
Canadian Governor General David Johnston confirmed that the country is keen on forging cooperation with Viet Nam through bilateral and multilateral cooperation frameworks such as APEC and the future Trans-Pacific Partnership, in order to facilitate trade and investment ties in the coming years.
Meanwhile, the Speaker of the Canadian Senate, Noel Kinsella, emphasised the potential for significant cooperation the two countries have in human resources training and new energy technologies.
During his stay in Ottawa, Deputy PM Ninh also met the staff of the Vietnamese Embassy before leaving for Toronto.