Deputy Prime Minister Vu Van Ninh on May 22 led a government working team to the southern province of Dong Nai to inspect the progress of support policies aiding enterprises who had their property damaged due to the recent rioting in the locality.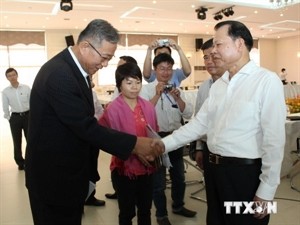 Deputy Prime Minister Vu Van Ninh meets representatives from foreign businesses (Photo: VNA)
Working with local officials and representatives from Taiwanese, Japanese and Republic of Korea businesses in Dong Nai, Deputy PM Ninh affirmed that the government and local authorities will join hands with the enterprises to help them resume their operations.
The government will create all possible conditions for businesses and accompany them in the work, he stated.
The Deputy PM also stated that the government will ensure the absolute safety for foreign businesses and investors by preventing similar incidents from ever taking place again.
He also noted that Prime Minister Nguyen Tan Dung has also directed ministries and localities to promptly give specific assistance to affected enterprises, suggesting that businesses and localities raise their voice if they experience any shortcomings during the implementation of the direction.
He also hailed the timely response of the local government in stopping some extremists from taking advantage of workers' protests against China 's illegal placement of its oil rig in Vietnam 's waters to commit social disturbance, affecting the enterprises.
The law-breakers have been arrested and will receive adequate punishments in accordance with the law, he stated.
So far, necessary support in tax, customs and administrative procedures has been provided to businesses to help them restore their normal operations, he noted.
Representatives of the affected businesses thanked the Vietnamese Government for the timely support, expressing their wish to continue their long-term operation in the country.
Chairman of the Dong Nai People's Committee Dinh Quoc Thai also pledged that the province will spare no efforts to help the affected firms.
Earlier on May 21, Deputy PM Ninh also met local officials in Binh Duong and representatives from foreign and domestic enterprises based there, including those affected by the recent anti-Chinese protests.