Many people living in Ho Chi Minh City, particularly of low income strata, are looking for alternative modes of domestic energy to replace cooking gas cylinders that have become increasingly more unaffordable to the common man.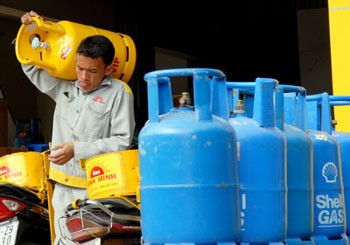 Present retail price of cooking gas has made it unaffordable for many city residents (Photo: SGGP)
Gas companies in the city have once again increased the retail price of a 12kg cooking gas cylinder by VND42,000 this February, which will now cost VND428,000.
Within the last two months, the gas retail prices have been hiked three times, amounting to a total hike of VND74,000 on a 12kg cylinder.
According to the gas companies, the world gas prices have gone up to US$145 a ton forcing them to raise the domestic price as well.
This increase on an essential commodity like cooking gas has brought more financial burden on people with average income of around VND2.5-3 million a month. As a result they have turned to alternate means for cooking, like coal briquettes.
Luong Thi Nguyet Anh, a garment worker from Binh Tan District earning only VND2.4 million a month, says it is not convenient to cook with coal but it is more economical. With two briquettes costing a mere few thousand dong, she can cook on the coal fire for 3-4 hours continuously.
Another option is to switch to electric hotplates and microwave ovens. However, cost of electricity is quite high and hence not a practical choice.
With both cooking gas and electricity being quite unaffordable, many low and medium income families have opted for coal briquettes as the best alternative.