The level of alarm is increasing for the domestic pharmaceutical industry faced with increasing drug prices, rampant use of foreign-made medications and a depletion of rare Vietnamese herbs, all of which have been reported in recent meetings.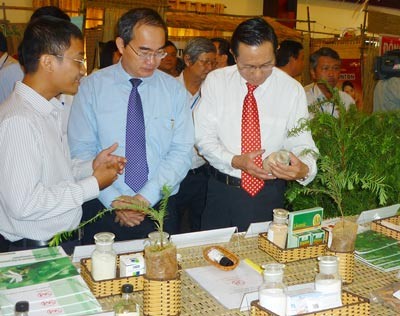 Deputy Prime Minister Nguyen Thien Nhan (C) calls on a booth to display pharmaceutical products  in the southern province of Binh Duong in June (Photo: SGGP)
However, the national pharmaceutical industry has made progress minimizing these averse affects, working with over 100 World Health Organization's GMP-recognized factories and exporting select domestic drugs, said  Tran Tuu, Chairman Pharmaceutical Corporation SAVIPHARM. 
Tuu added that Vietnamese-made firms provide generic drugs to medical clinics, but firms are largely dependent on foreign countries to produce the ingredients for these medicines.
Tuu also argued that drugs should be divided into two groups: brand name drugs, which are expensive because they are distributed exclusively and generic medications, which are cheaper and mostly made in Vietnam.
Vietnamese–made drugs have helped drive down prices of their foreign counterparts.
Vietnamese enterprises face challenges manufacturing various high quality drugs. The industry needs to invest in advanced technologies and research, in order to apply new techniques to increase the availability of the types of medications available.
To restore rare herbs, farms should be set up to ensure materials, but such plants must be grown according to standards dictated by the Global Good Agricultural Practice certificate.
In addition, the industry must invest in production of some essential materials including antibiotics and pharmaceutical packaging, which are mainly processed from imported raw materials. Vietnamese manufacturer Mekophar did succeed in producing antibiotics such as Amoxylin and Ampicilin.