Pham Xuan Nam, an official in the Dong Nai Province People's Committee said yesterday that the provincial authorities were in no way responsible for the Sonadezi Company wastewater treatment scandal, which was entirely the Company's matter.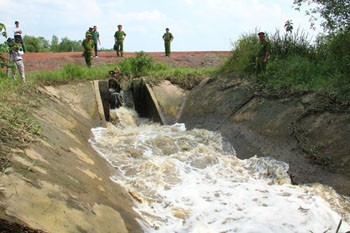 Wastewater from the Sonadezi Company spewing into the Ba Cheo Canal (Photo: Thanh Nien)
Sai Gon Giai Phong Newspaper sought an appointment with the Dong Nai Province authorities, but were only able to speak with Mr. Nam over the phone.
Mr. Nam said that they were awaiting a conclusive report from the police investigation which will clarify the status of the case against the company. Le Viet Hung, director of the Department of Natural Resources and Environment in the province also gave a similar answer, stating that nothing can be concluded until the police investigations are over.
The Sonadezi Company was established in 1990 and has since contributed greatly towards boosting the province's economy and creating jobs for over 100,000 people, besides being honored by the State President for excellent performance in many fields and received the labor hero award in 2006. 
Related articles:
Sonadezi spewing excessive wastewater
Sonadezi Company expenses investigated
Authorities lax, while Sonadezi pollutes
Sonadezi Company fleecing other enterprises
Untreated wastewater polluting farmland
Company caught polluting Dong Nai River