Tran Van Tu, chairman of the People's Council of Dong Nai Province, said on April 23 that the province would place a very determined plea in front of the Politburo, National Assembly and the Prime Minister to stop Dong Nai 6 and 6A Hydropower Plants from coming up in the region.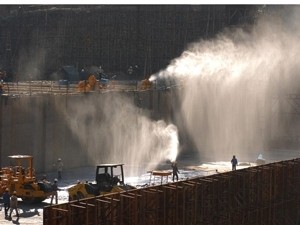 A hydropower plant under construction along the Dong Nai River (Illustrative photo: VNA)
Tu made this statement at a meeting with provincial authorities and officials of the National Assembly, while discussing the Hydropower Projects.
At the meeting, representatives from the Ministry of Natural Resources and Environment said that the environment impact report given by the project investor, Duc Long Gia Lai Group, is impractical and not yet approved by authorized organs.
The investor does not present afforestation measures to make up for the loss of forest cover during construction of the projects.
Phan Thi My Thanh, deputy chairwoman of the People's Committee of Dong Nai, said that Hydropower Plants will create a negative impact in the upper reaches of Dong Nai River, affecting the lives of residents living in low lying areas, including in Ho Chi Minh City and Binh Duong Province.
Vo Van Chanh, deputy director of the provincial Department of Natural Resources and Environment, said that economic benefits from the two projects is inconsequential compared to unaccountable damage caused to 20 million lives, the environment and the ecosystem.
According to the investor, Dong Nai 6 and 6A Plants will generate one billion kWh of power and no locals will have to be removed or resettled.
Le Quang Huy, deputy chairman of the NA Committee for Science, Technology and Environment, proposed that the National Assembly ask the investor to clarify further on the environment impact to the Cat Tien National Park.
Tran Van Tu, chairman of the People's Council, said that the legal angles of the two projects need to be considered carefully.
He said that although the Prime Minister has approved development of Hydropower Plants for the period 2011-2020, which covers Dong Nai 6 and 6A Plants, several central and central highland provinces have asked for adjustments to these plans due to huge negative impact on environment as compared to economic gains.
The two projects also do not take into account the biodiversity law, water resource law, cultural heritage law and several other regulations set by the Government.
Related article:
Hydropower plant investor disregards public outcry