Dong Nai will focus on providing jobs for half a million people this year to stabilize their economic and social conditions, Tran Dinh Thanh, the province's Party Committee Secretary, told the media February 16.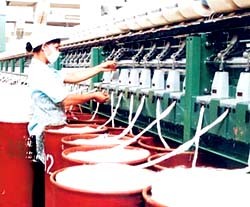 A garment factory in Dong Nai Industrial Zone. Dong Nai Province hopes to create jobs for half a million people this year. (Photo: Nhan Dan)
Spelling out the province's major problems at an informal meeting between its leaders and the media in Bien Hoa town, he added that Dong Nai would appoint spokespersons and hold press conferences twice a year to provide information.
Vo Van Mot, People's Committee chairman, said the province's economic and social conditions had improved last year, with growth at 15.5 percent.
Members of the media made suggestions about disseminating information on major issues -- like the pollution of a river by Taiwanese MSG maker Vedan.
The chief editor of SGGP, Tran The Tuyen, thanked provincial leaders for providing information to his newspaper and helping SGGP undertake charitable activities over the years.
The People's Committee gave away awards to six media organizations for helping the province disseminate information -- Nhan Dan (People), SGGP, Phap Luat (Law), VNA, Radio Voice of Vietnam in HCM City, and Vietnam Television.