The Mekong Delta has entered rush time of coping with drought and salt intrusion which have occurred earlier than normal this year to threaten thousands of hectares of rice and put many forests in fire danger.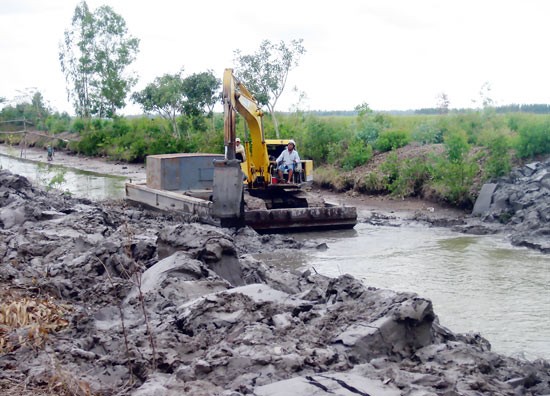 A canal is being dredged to take water for paddy field in Soc Trang Province (Photo: SGGP)
Salt penetration has been worst in Go Cong Dong, Go Cong Tay, Cho Gao districts, and Go Cong town of Tien Giang province. 
Nguyen Van Tam from Go Cong Tay lamented that salt waters has encircled rice fields in the district concerning local farmers as their rice fields have been cultivated  for only 50 days. 
The provincial Irrigation Department said that salinity has increased to 1.4 per thousand on March 9, forcing local authorities to close Xuan Hoa sluice gate to prevent salt water from penetrating further into rice fields. 
Thousands of households in Long Phu district, Soc Trang province are on tenterhooks as saline intrusion has occurred one month earlier than normal. 
Most canals have been depleted or invaded with salt water while rice fields are in blossoming phase. Water shortage will reduce productivity or even cause complete losses, said local man Tran Van Truong. 
The district Department of Agriculture and Rural Development reported difficulties in protecting 13,000 hectares of young rice fields. 
Local authorities have begun dredging depleted canals to get water for rice fields however many provinces are in short of capital to do so. 
Forest fire danger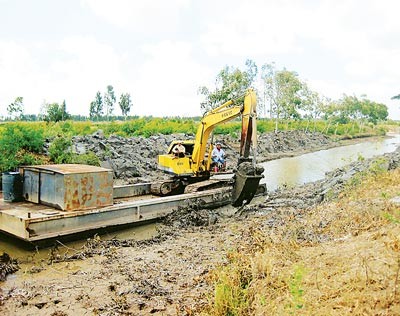 (Photo: SGGP)
Forest Management Department under the Ministry of Agriculture and Rural Development said that forest fire has become a wide-range danger in the Mekong Delta because of long lasting drought. 
The most vulnerable areas are positioned in Dong Thap, Long An and An Giang provinces. Hundreds of hectares are on sights of fire. 
Severe hot and dry spells have dried up canals in U Minh Ha mangrove forest, reported the department's division in Ca Mau province. Nearly 20,000 out of 25,000 hectares have been dry and susceptible to catching fire. 
Director of U Minh Ha Forestry Company Tran Van Hieu said that they have sent officials to most vulnerable areas to prevent forest fire from happening. 
The park's management has prepared necessary facilities for possible firefighting and arranged 145 staff at 24 stations to keep watch over the park 24/7. 
An Giang Department of Forest Management have fully prepared human resources and facilities and conducted regular patrols to protect forests. 
However they worried about many forests located on high mountain slopes where are very hot and muggy and short of water. In addition, the province is entering Ba Chua Xu Festival on Sam Mountain which has attracted a lot of visitors who are feared to be negligent and flare up fires.