A pilot project has provided vocational training and jobs to former drug addicts in the city. However, the public is concerned that those in charge of controlling these people may be lax. To alleviate public worry, Mr. Nguyen Thanh Tai, deputy chairman of the People's Committee, gave an interview concerning the matter.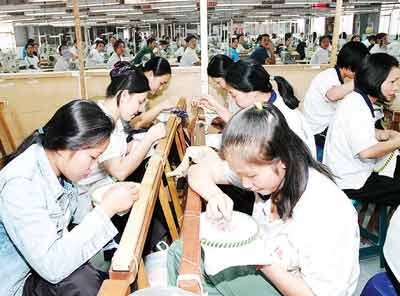 Former drug addicts are practicing embroidering at a rehab center
Under a regulation, drug addicts can go back home after 24 months in compulsory rehab. Nevertheless, it proves that rehabilitated substance abusers can still relapse.
Hence, the city asked the centers to promote dissemination of the useful vocational training. Working helps prevent them from relapsing after being discharged from rehab.
Around 371 former drug addicts finished the detoxification in 2008. Patients who have a permanent address in the city must be under the control of their district administration after being discharged from the rehabilitation centers so that they can receive immediate help.

Homeless addicts who are strong enough, however, are encouraged to work in the Nhi Xuan Industrial Park in Hoc Mon District. Those in poor health will be sent to the Phu Van Detoxification Center.
Mr. Tai rejected the idea that the post-detoxification program is unsuccessful, but he confirmed that it has played an important role in the economy and society. The city spent over 1.2 trillion (US$74,000) over five-years. He estimates that 30,000 drug addicts spent over VND2,700 billion (US$163,000) on cocaine over five years.
Moreover, the number of illegal drug users will multiply if current users are left untreated. In the other side, the HIV/AIDS transmission rate decreased from 16,000 cases in 1999 to 9,000 in 2007, contributing to a declined proportion of criminals, especially those involved in drug dealing.
According to one district, 70 percent of post-detoxification patients now have a job. Previously, 90 percent sat around at home because they lacked skills to make them employable.