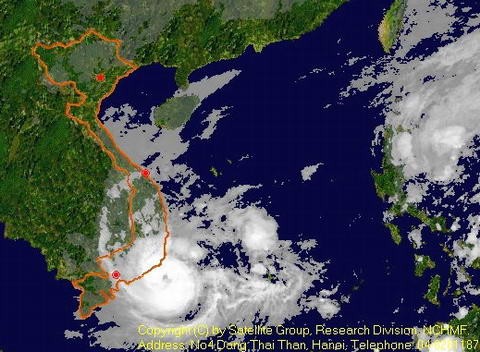 Satellite view of the Typhoon Durian at 8 AM, 5 December.
At least 15 people died when severe tropical storm Durian hit southern Vietnam, destroying thousands of boats and houses on Tuesday morning.Tens of thousands of people in south-central coastal areas were evacuated by Monday evening.  
Last night, the fierce Typhoon Durian hit Phu Quy Island, 120 km away from Binh Thuan Province, instead of approaching Tuy Phong District as previously forecasted.
The severe storm caused heavy losses including 820 fishing boats sunk, 2 scrimp floating farms swept away, more than 2,000 houses and schools collapsed and the entire electricity and communication system shut down, and causing  lots of serious injuries.
Border soldiers at Bai Xep, Quy Nhon Province found yesterday a lighter being drifted near the Bai Ran's beach. The lighter was broken into half, making oil spread over the sea, and nearly 10,000 cubic meters of wood on the lighter were about to fall down
Also, at La Gi Town, nearly 200 houses and schools collapsed caused 2 deaths and 2 slight injuries; 2 boats were sunk and 302 meters of breakwater blown off.
Today's morning, the delegates consisting of the Ninh Binh Province party committee secretary and many local officials came to the island and offered more than 1,300 tents to locals. The secretary also instructed local militia forces to rescue victims of the storm.  
In addition, planting winter-spring crop has to be stopped immediately until the fierce Typhoon Durian passes by, provincial authorities in the Mekong Delta announced.
"If we plant at this time, we will have to face with heavy losses caused by the severe storm. Furthermore, the Mekong Delta is, by now, lacking of seasonal crops," Nguyen Van Phuong, director of the An Giang Province Department of Agriculture and Rural Development, says.
So far, nearly 400,000 hectares of seasonal crops have been planted, so barriers around paddy fields ought to be consolidated and drained to prevent from being flooded.
Related articles: