Ba Ria-Vung Tau copped more than its fair share of grief from Typhoon Durian, which tore into the coastal province early on Tuesday morning.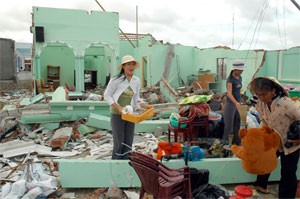 A house is broken down after the storm in Ba Ria-Vung Tau Province

Thirty six hours later the provincial toll of life, limb and property stands at 35 killed, 21 missing and some 1,000 badly injured along with 1,500 houses destroyed, 40,000 roofs blown off, 13 boats sunk and many industrial zones severely damaged.

A mournful atmosphere pervades the most ravaged districts, Long Dien and Dat Do. Many of the locals have lost relatives, not to mention their homes, and the despair is overwhelming.

A 76-year-old woman who lost her 43-year-old son, the breadwinner of the whole family, was inconsolable. "No sooner had he pushed me and four children under the table than the wall collapsed on his back," she wailed.

In the town of Long Hai, 31-year-old Nguyen Thi My died and her husband was severely injured when their house crashed down on top of them. His only consolation is that their two children are safe and sound, having been sent to their grandfather's home before the storm came.

Many residents from across Ba Ria-Vung Tau have been hospitalized, and the wrecks of fishing boats litter the beaches of the provincial capital, the normally relaxed holiday town of Vung Tau.

Down south, Ben Tre Province at the mouth of the Mekong Delta saw Durian come and go in just three hours but the experience left terror in the eyes of the residents.

There the storm took 16 lives and injured 200 people, flattened or damaged 40,000 houses and spoiled 30,000 hectares of paddy, orchards and market gardens.

Now the farmers have another worry to contend with: how to resume production.

Tien Giang immediately north of Ben Tre is suffering too, having to endure a long agonizing wait as six fishing boats from the province are known to have gone down at sea and 65 people are still missing.