Dust pollution has become a serious problem in most urban areas in the country, according to the 2007 national environment report by the Ministry of Natural Resourses and Environment.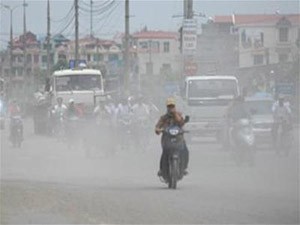 Most urban areas in the country face dust pollution
Over the past few years, dust has been recorded at high levels in many urban areas, especially at traffic crossings and construction sites, according to the report, which was released on August 12.
Dust in general remains within allowable levels. But in some areas and at some times, the concentration of some toxic substances in dust has exceeded their thresholds.
At traffic crossings in urban areas, lead, nitrogen dioxide, benzene, toluene and xylene have reached high levels. Sulfur dioxide has surpassed allowable levels in some plants and factories.
Dust contributes to the increase of diseases, especially respiratory problems, thereby reducing productivity, raising healthcare costs, and hindering the country's economic growth, experts warned.
Along with dust, noise has recently become a problem in cities, particularly in areas with dense traffic, the report said.