The city's dyke system has been seriously compromised by encroachment by householders and damaged by the continued use of overloaded sand and soil trucks, Tin Tuc (News) newspaper reported.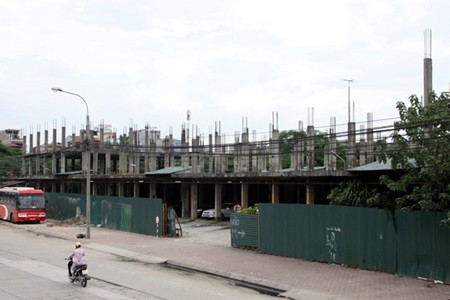 An illegal construction is underway in Ha Noi's Hong Ha Street beside the dyke along the Hong (Red) River. The city's dyke system has been seriously compromised by encroachment of illegal constructions.— VNA/VNS Photo Tuan Anh
The situation is expected to become dangerous when the rainy season hits.
Building houses along dyke protection corridors, or dyke safety zones, has increased in recent years.
Ha Duc Trung, deputy director of Ha Noi's Agriculture and Rural Development Department, said, there were many encroachments in the districts of Ung Hoa, Phu Xuyen, Ba Vi and Thuong Tin.
He said more than 100 houses had been repaired or upgraded in dyke protection corridors.
The problems can be laid at the feet of the Ministry of Agriculture and Rural Development and the city authority.
In 2013, the city approved a plan to expand dyke-protection corridors by absorbing houses and farm land that were legally in use.
Today, it is estimated it would cost US$3.3 million to compensate residents, relocating them in necessary, but so far, the city has not sought any loans or grants.
In other sections of dyke along the Hong (Red) River, residents continue to build houses in protective corridors, although local authorities warn that it is illegal.
The city's extensive dyke systems, built to protect the city - and farms - from the huge floods that occasionally hit the area, have also been degraded by endless lines of overloaded vehicles.
According to regulations, dyke roads cannot be used by vehicles over 13 tonnes. However, many trucks with loads of 20-25 tonnes can be seen bumping up and down the roads every day.
The overloaded trucks have seriously destroyed many dyke roads. A section of dyke in Dong Anh District which was recently upgraded for VND5billion (about US$240,000), has been badly damaged by overloaded vehicles.
On the left side of Hong (Red) River in Vong La Commune of Dong Anh District, hundreds of trucks fully loaded with construction soil and gravel drive along the dykes everyday.
Just three months after being upgraded, the roads are already starting to sink.
According to Dong Anh District's Dyke Management Department, on a 10km section of dyke running through the communes of Vong La, Hai Boi and Vinh Ngoc, there are nine sites stockpiling sand, gravel and construction materials. Hundreds of trucks roar in and out every day.
Several times, the department asked the local authority to set up controls, but the situation remains unchanged..
Nguyen Xuan Hai, deputy director of Ha Noi Dyke Management Department, said overloaded vehicles were destroying dyke roads in Thanh Tri, My Duc, Dan Phuong and Phuc Tho districts.
At present, there are about 140 sites keeping sand, gravels and construction materials along the Red River passing through Ha Noi.
Every year, the local authority and agencies fine individuals and companies and close sites down. But operations quickly resume.
Districts and communes have been asked to review sand and gravel leases along the river