In comparison with economic situation five years ago, Vietnam's economic picture in 2015 showed fairly positive movements which open several opportunities for sustainable development in the upcoming years.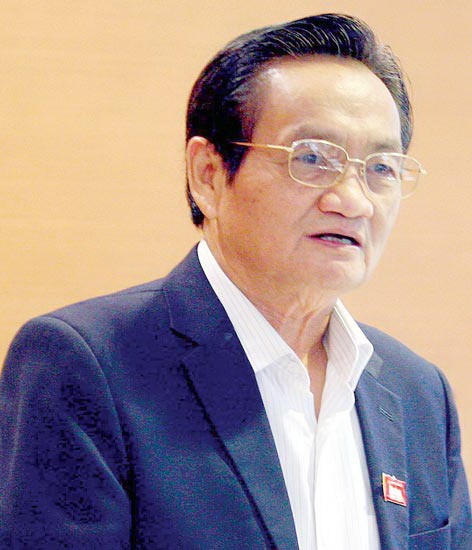 Ph.D Tran Du Lich, member of the National Assembly's Economic Committee. (Photo: SGGP)
Economic regulations are improved; business community has overcome difficulties and is in development; the country has gradually achieved high position in regional and global economic relations.

In 2015, macroeconomic indicators such as: economic growth, inflation control, US dollar exchange, liquidity of commercial banks, and imports and exports, continued to post increases compared to previous years. Gross domestic product hit 6.7 percent, the highest level in the past five years.

One out of three strategic breakthroughs carried out in the past five years was to complete economic policies with the issuance of Constitution 2013 and the promulgation of several important codes, including Civil Code, Penal Code, Maritime Code, Investment Code, Enterprise Code, Bankruptcy Code, Accountancy Code, and Statistics Code. Improvements in the law system involve almost all aspects of social life, aiming two targets: improve domestic investment environment and integrate into regional and international economies.

Since 2014, the Government promulgated Resolution 19 and improved it in 2015 with attempt to reform public administration which aims to reduce duration for tax declaration and customs clearance at border gates to as fast as that of countries in ASEAN+6 and ASEAN+4 in the near future.

Beside these aforesaid highlights, Prime Minister Nguyen Tan Dung pointed out nine remaining shortcomings at the tenth meeting of the thirteenth National Assembly which were macro-economy remained unsteady; balancing national budget faced difficulties with overspending remaining high; public debt increased swiftly with troika pressure on debt settlement; credit quality remained poor while bad debt settlement and restructure of weak commercial banks came up against several difficulties; mobilizing non-state investment resources was still limited; and economic restructuring and renewal of growth model were still sluggish. In the five-year plan, many economic targets had not been obtained yet. For instance, economic growth was merely at 5.99 percent annually compared to a target of 6.5-7 percent annually; total social investment/GDP; especially, norms involving growth properties were improved slowly.

Since mid-2013, the country's economy started to recover but aggregate demand inched up sluggishly. Decrease in global food prices along with stagnancy in agricultural restructuring had opened up a gloomy outlook to domestic agriculture with growth rate slowing down. The country's agriculture was expected to meet more difficulties when domestic market opens. Meanwhile, long-lasting processing industry and underdeveloped supporting industry has led to a situation that many industries will find it hard to survive with tariff reduction.

Financial market developed asynchronously. Stock market and insurance had not played the role as a channel which creates necessary medium and long-term capital for the economy. Commercial banks were still in restructuring. In the past five years, public investment channel had made significant impacts on increase of aggregate demand and growth stimulation. However, in the coming years, the Government will have to cut public debt and lessen Government debenture bonds. As a result, there will be only a few fiscal policies to stimulate aggregate demand. Meanwhile, the ineffective voluminous administrative apparatus is expected to be worse in the next few years when several acts on organization of the state apparatus are carried out.

To overcome those challenges, it depends greatly on the result of the general economic restructuring which was set for the period of 2011-2020. Although it has already passed half of the way, results were extremely poor, especially in agriculture and industry. The country's agriculture mainly relies on natural advantages, producing low added value while processing industry has not showed any significant changes.

In order to shorten industrialization and modernization process and to be in accordance with inevitable integration tendency of the era, since 1996, the Government had advocated integration. In fact, Vietnam has widely and deeply joined regional and global economic integration process, such as joining AEC, carrying out tariff cut under CEPT agreement in late 1990s with countries in the ASEAN, finishing bilateral negotiations with various countries in early 2000s to officially become a member of WTO in January 2007. Especially, in the past eight years, the country had continued to negotiate and signed several new generation bilateral and multilateral free trade agreements, strategic partnership and comprehensive partnership agreements with many countries. In addition, Vietnam has also finalized talks for a FTA with the EU and the Trans-Pacific Partnership. In the field of foreign economic relations, including foreign trade relations, credit, and investment continued to develop positively, helping to raise the country's economic rank in regional and global markets.

In the past five years, the Government always persisted with policies and solutions, aiming to control inflation and stabilize macro economy, resolve difficulties for businesses, and promote economic growth at reasonable rate and ensure social welfare. Besides, it has also preliminarily successfully restructured three priority fields, comprising of public investment, commercial bank network, and state-owned corporation. However, it just mainly tackled short-term issues, instead of thoroughly solving origin ones.

Ten-year socio-economic development strategy for the period of 2011-2020 determined that restructuring of general economy has to attach to renewal of growth model and the economy's competitiveness has to be improved. It is important to foster competitiveness in three angles: nation, businesses, and products. Therefore, it requires a comprehensive insight about national competition in order to determine where the country is in the integration process.