Eighteen quarry workers were thought to be dead in the landslide at a stone mine serving a hydro-power plant project in central Viet Nam's Nghe An province on Saturday. Nghe An is about 300km south of Ha Noi.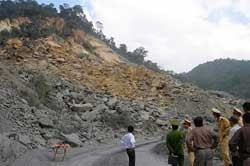 The accident site. Stone from this moutain is quarried to serve the Ban Ve hydro power plant project nearby.
The landslide occured at 9.30a.m. local time in Tuong Duong district, burying the workers and drilling equipment under rock and clay. They were quarrying stone for the project at the foot of a mountain overlooking the Ban Ve site where the Ban Ve power plant is being constructed.
As no rain has fallen in the area recently, officials suspect the landslide was caused by explosives used at the mine on the previous day to remove stones from the mountain. The stones were being used to build the Ban Ve power plant.
Hundreds of rescue workers, 8 power shovels and 5 trucks were mobilized to the site but it has been predicted that it will take weeks to remove the rocks and reach the bodies. By 8pm the same day, no bodies had been found as the accident site had been obstructed by thousands of tons of soil.
Of the 18 victims, eight work for the state-owned Song Da Corporation No 5; nine for the Song Da Corporation No 2 and one for Electricity of Viet Nam's Hydro Power Project Management Unit No 2.
Vietnamese Prime Minister Nguyen Tan Dung sent his condolences to the families of the victims and has ordered an inquiry into the cause of accident. PM Dung also sent Deputy Prime Minister, Hoang Trung Hai to the province to directly oversee the search operation.