By yesterday evening, eight bodies had been pulled out of several meters of rock and earth in central Viet Nam following a Saturday landslide which buried 18 quarry workers. Seven other bodies have been located but are yet to be dug up.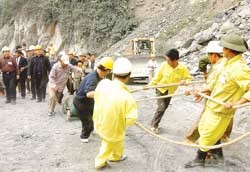 Efforts are going on to get to the remaining 10 victims, 7 of whom have been positioned by sniffer dogs.
Hoang Anh Vu, 29, became the latest worker to be found yesterday morning. The victims were quarrying stone at the foot of a mountain in Nghe An Province's Tuong Duong District to serve the nearby Ban Ve power plant.
Two sniffer dogs have been deployed and succeeded in positioning 7 victims, leaving 3 to be located but efforts to reach them has proved difficult as it rained yesterday.
Approximately 500 soldiers, militia and dozens of backhoes and trucks are being mobilized.
Of the 18 victims, eight work for state-owned Song Da Corporation No 5, nine for the Song Da Corporation No 2, and one for Electricity Viet Nam's Hydro Power Project Management Unit No 2.
Vietnamese President Nguyen Minh Triet, Prime Minister Nguyen Tan Dung and National Assembly's chairman Nguyen Phu Trong have sent their condolences to the victims' families. The Song Da Corporation has announced it would initially donate VND30 million (US$1,875) to each family. Meanwhile, Sai Gon Giai Phong has donated VND54 million.