Unnatural and harmful fishing methods are depleting fish stocks in unsustainable ways across the country, but localities lack the means to stop them, a Tin Tuc report says.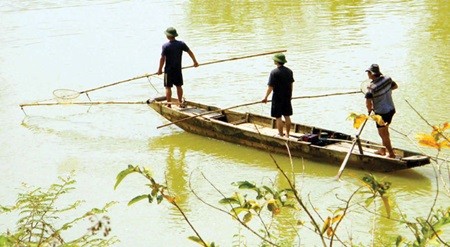 Fishermen in central Nghe An Province's Chau Thang Commune (Photo: VNA/VNS)
It cites local authorities as saying they do not have sufficient law enforcement teams to stop practices like electrofishing and the use of nets with smaller holes than allowed.
According to the Department of Statistics in the southern province of An Giang, where many residents earn their living by fishing, natural fishing practices have decreased sharply over the last 10 years.
A survey of 2,500 households found around 1,300 using electrofishing and 840 using fishing net with smaller eyes than allowed.
A similar phenomenon has been reported in Long An Province, also in the south. In the province's Moc Hoa District alone, seafood caught naturally has been decreasing 1,000 tonnes every year.
Nguyen Quang Tich, a resident of Chau Phu District in An Giang, said he has seen the catch fall sharply over the past several years.
"Before, I could catch plenty every night. It has changed. There are nights when I go back bare handed. I'm thinking of finding another job," Tich said.
Residents living on the banks of the Red (Hong) River are reporting similar problems.
Nguyen Minh, a resident of Ha Noi, estimated that the amount of fish has decreased by half in recent years due to electrofishing.
Dang Ngoc Giao, deputy head of the Agriculture and Rural Development Department of Hau Giang Province in the Mekong Delta, said electrofishing can destroy the living environment of marine life, and recovery would be difficult and take a long time.
Dangerous
Minh said he himself was electrofishing.
"I know it's dangerous, but, you know, it's for the money," he said, implying that earnings from normal practices were insufficient.
Vo Thanh Do, a resident of Can Duoc District in Long An Province, died last year while electrofishing.
Vo Van Trac, vice president of the Viet Nam Fisheries Society, said regulations banning bad fishing practices had to be enforced more aggressively.
However, authorities said they did not have the personnel for such enforcement.
Ha Le, deputy director of the Fisheries Surveillance Force, said since 2004, the surveillance task has been assigned to local agriculture departments, but the small number of inspectors hindered effective work.
"Electrofishing is on the rise and electrofishing tools are sold publicly, but no agency is tackling the problem," he said.
Meanwhile, Nguyen Thi Phuong Dung, deputy director of the Fisheries Preservation and Development Department, said the focus has to be more on educating residents and fishermen on the issue.
He also suggested stricter punishments for violations.
"Since the number of inspectors is too few, it might be more effective if we ask local residents to do this for themselves, raising their awareness of the long-term benefits of natural fishing.