The People's Council in the central highland province of Dak Lak on December 12 approved a VND60 billion project for the conservation of elephants, whose numbers have been facing a serious decline in the last few years.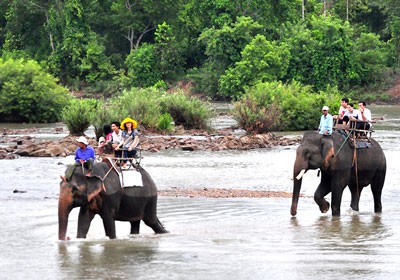 Dak Lak Province will assist owners of elephant herds with free health checks every year (Photo: SGGP)
Under the project, authorized organs will provide free health checks and treatment to captive bred elephants once a year. 
In case the owner wants an unscheduled health check of the elephants, the State will pay towards 100 percent of the fee and 50 percent towards medicine costs.
The numbers of captive bred elephants have plummeted from 500 in 1980 to only 50 now. These are mainly concentrated in Buon Don and Lak Districts. For this reason, the province has set up a VND60 billion (US$2.88 million) project for the conservation of elephants until 2015.
The numbers of wild elephants have also declined in Dak Lak Province from 550 in 1980 to only 80-110 at present.
Since 2009, 14 wild elephants have died due to various factors while a number of them were killed by hunters for their tusks.