The office of the Convention on International Trade in Endangered Species of Wild Fauna and Flora (CITES) in Vietnam claims that  of the 51 captive bred elephants in the central highland province of Dak Lak, two have died from exhaustion and fatigue while serving tourists.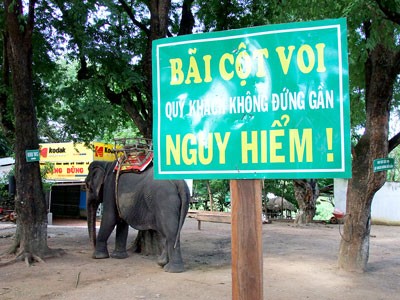 Captive bred elephants are being used for tourism activities (Photo: SGGP)
One 63-year-old elephant was found dead from exhaustion while catering to the needs of tourists in Krong Na Commune in Buon Don District of Dak Lak Province on April 9. Earlier on February 11, another 35-year-old elephant also died of the same reasons in the district.
Ngo Le Tru, an expert from the Natural Resource Conservation Department under the Ministry of Agriculture and Rural Development, said that residents from Buon Don District overexert elephants for tourism, which causes fatigue and eventually death.
Besides, using captive bred elephants for tourism brings a negligible income of VND13-16 million (US$624-768) per elephant per year, Tru added.
According to CITES Vietnam, 60 percent of the 49 captive bred elephants still alive in Dak Lak Province are of mature age, of which 19 are male.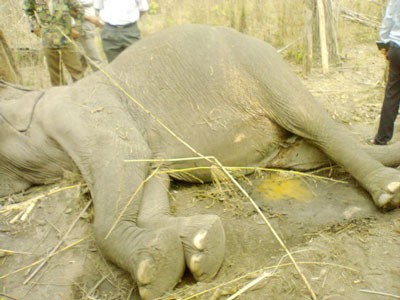 A 63-year-old elephant died of exhaustion while serving tourists in Dak Lak Province on April 9 (Photo: SGGP)
As of now, the country has 70-73 wild elephants in Dak Lak, Dong Nai and Nghe An Provinces, which are under constant threat of being hunted down.
In 2006, the Prime Minister had called for conservation and protection of elephants, a plan which has not been implemented effectively so far.
Tru, however, said that there has been no official project to conserve elephants. There have only been small projects in Dong Nai and Dak Lak Provinces, which have not even taken off due to capital shortage.
As a result, the Ministry of Agriculture and Rural Development and relevant provinces will submit to the Prime Minister a project plan to conserve elephants. The project will assist residents with funds to conserve and captive breed elephants.
This conservation plan will require a base fund of about VND220 billion ($10.56 million) to prove effective from now until 2020.