A ceremony was held in the central upland city of Dalat on Sep. 2 to bring a huge embroidered painting to Hanoi for the capital's 1,000th anniversary event set for next month.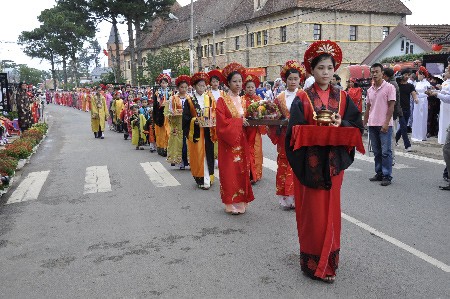 The procession of the embroidered painting in Dalat on September 2 (Photo: Sggp)
The 167.5kg work, three meters wide and four meters hight, shows old-day scenes in the north with roofs of temples, wings of cranes on the background of pink lotuses.

Artisans of XQ Vietnam Company has spent about 1,000 days to finish the painting to mark the Grand Celebration of the 1,000th anniversary of Thang Long – Hanoi.

The painting will be on procession through 14 cities and provinces nationwide, and arrive in Hanoi on September 28. The masterpiece will be displayed to the public in every destination.