After eight years' operation, the Tan Hoa – Lo Gom canal sanitation and urban upgrading project sponsored by the Belgian government has come to a successful end. The pilot project can be replicated to resolve environmental and urban issues of Ho Chi Minh City.
About the project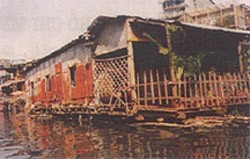 Slums along Tan Hoa - Lo Gom Canal
Eight years ago, the Ho Chi Minh City People's Committee and the Belgian government were determined to resolve environmental and urban issues along the Tan Hoa – Lo Gom Canal in HCMC.
The Project Management Unit (PMU) 415 was then established to carry out some pilot projects such as resettlement and housing the poor, community's participation and awareness enhancement.
After other projects came to a successful conclusion, the city authority asked PMU 415 to relocate 250 households in Tan Hoa – Lo Gom basin in District 6.
Resettlement and housing the poor
The solution of an apartment building was suggested. Medium-rise apartments for low-income people replaced slums. The construction was smoothly progressing with the close co-operation of households involved. One market was built to help the local residents earn their living.
However, Vietnamese households prefer low-rise apartments; thus, another project was implemented in Binh Hung Hoa A Ward, Binh Tan District. It includes 119 land-plots with an area of 40 square meters each and a separate drainage and wastewater collection system. A fund was raised to provide capital of construction for poor households. In mid-2005, fifty-five families were relocated to the new housing area.
At the request of households involved in the projects and other residents, a primary school was built instead of a market as planned. The Binh Long Primary School came into operation from September, 2005 with 500 pupils.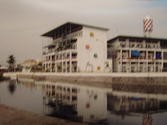 Low-rise apartments are convenient for low-income households
It took a rather long time for compensation policies to be approved. Finally, PMU 415 agreed to directly pay money to households that can relocate themselves. Fifty-one families received cash for self-relocation because the construction of resettlement projects was not completed.
In some areas of Ward 11, District 6 where relocation is not really essential, PMU 415 provided infrastructure facilities. One hundred and sixty-six households were supplied with water and electricity.
Solid waste management in District 6
Among the pilot projects conducted by PMU 415, the solid waste treatment management project was one completed with the best results.
After negotiating with local authority, ninety percent of the residents agreed to sign a contract with garbage collectors.
In the past, waste was gathered on the Ba Lai Road to be treated and transferred by small trucks to the city-based transfer stations.
Now, collectors use advanced handcarts or three-wheelers, directly dumping waste into containers installed in Ba Lai waste transfer station. Treatment is conducted beforehand or in these containers; later, waste is directly transferred by trucks to waste burial fields.

The station was built on an area of around 930 square meters, keeping waste in containers instead of squeezing waste; thus, it saved much more money.
The Public Service Company of District 6 is charged with managing the station with the capacity of 35 tons of waste per day. After three years' operation, the station has helped improve the environmental conditions of District 6.
Conclusions
Recently, a concluding conference themed "Resettlement and Housing the Poor in Ho Chi Minh City and Its Socio-Economic Components" has been held in Ho Chi Minh City.
The conference was attended by an international evaluation group led by Belgian Prof. Hans Verschure, Pakistani Prof. Arif Hasan, and Madam Somsook Boonyabancha from Thailand as well as Vietnamese experts. They made inspection tours around construction sites of the Tan Hoa – Lo Gom canal sanitation and urban upgrading project before drawing out their conclusions.
Experts from the Ministry of Construction, HCMC People's Committee and other organizations also gathered to discuss the results of the master plan and compare it with previous housing solutions for the poor in Viet Nam.
In general, the participants agreed that PMU 415 performed well and the Tan Hoa – Lo Gom pilot project is, to some extent, successful. The lessons of this plan can be applied to other projects in the future.