The Police Bureau governing the protection of the Environment (usually known as C36) made its debut on Tuesday under the witness of the Deputy Minister of Natural Resources and Environment, Pham Khoi Nguyen.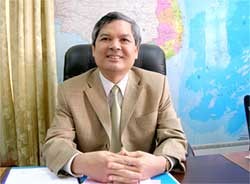 Deputy Minister of Natural Resources and Environment Pham Khoi Nguyen

The Deputy Minister revealed that many firms are currently enjoying supernormal profits from ravaging the natural environment.

Meanwhile, civil servants in charge of inspecting and settling environmental violations are usually open to bribery, he added.

He also highlighted the ministry's recent discovery of over 3,000 containers of illegal lead batteries imported from Japan by Vietnamese firms who stand to gain millions of dollars from their sale.

The head of C36, Mr. Nguyen Xuan Ly, said that similar offices to that of the Headquarters in Ha Noi will be established in other provinces and cities in the near future.