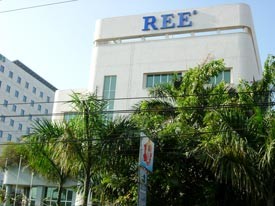 REE is one of the state companies successfully equitized in 2005. (Photo: Tuong Chau)
The Government planned to equitize 51 enterprises in Ho Chi Minh City this year, but ultimately the number was adjusted to 43 by HCMC People's Committee.
By now, a maximum of only 34 enterprises could be equitized this year, according to the Ho Chi Minh City National Steering Committee for Enterprise Reform and Development. Only 8 enterprises in the city were equitized in the first eight months this year.
Vice chairman of HCMC People's Committee held a working session discussing the measures to accelerate the equitization and restructure of state enterprises with the NSCERD on August 7.
Among the remaining 26 enterprises, many cannot be equitized due to their bad financial conditions and have to be declared bankrupt. In several cases, assets cannot be transfered to the enterprises for equitization due to the troubles in planning and asset origin, according to the NSCERD.
The vice chairman has instructed relevant authorities to have measures to deal with those problems. Accordingly, assessing the actual value of those enterprises is considered the primary solution. The factories under the city's suspended planning will also be assessed and accounted into the company's value.
The vice chairman said that the plan on equitization is scheduled to be completed in the end of this year, and during the implementation of the plan, necessary adjustments are expected to be made through actual business activities of those enterprises.
Measures of checking the companies are required, so that the Government can have the right decisions on whether the enterprise should be equitizated, sold, leased or declared bankrupt.