First Counsellor European Union Delegation to Vietnam Ms. Delphine Malard led a delegation of the European Union and its member countries yesterday had a working session with the southwestern region's Steering Committee for Natural Disaster and Prevent to analyze impacts and related issues caused by climate change in region.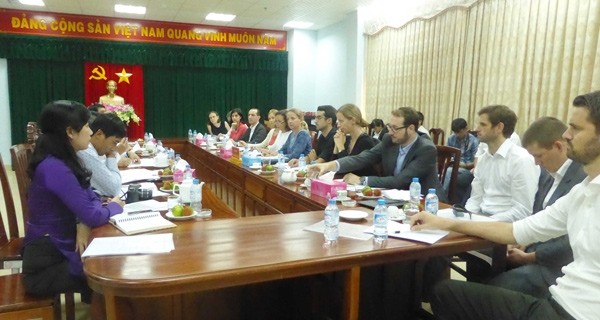 The European Union delegation and its member countries work with the Southwest Steering Committee about climate change impacts.
Attending in the meeting were representative leaders of Embassy of Belgium, Bulgaria, Germany, Dutch, the Republic of Poland, Finland, Italia, Spain and Sweden.
Vice Head of the Steering Committee Nguyen Trung Hieu shared with the EU delegation about socio- economic development, agricultural and the role of aquaculture, difficulties and challenges against climate change and saltwater influx in the region.
Besides that, Mr. Hieu also called on international organizations and the European Union assistance, investment, cooperation and sharing expertise to Vietnam in general and the Mekong Delta region in particularly in coping with climate change; especially, being in training human resources...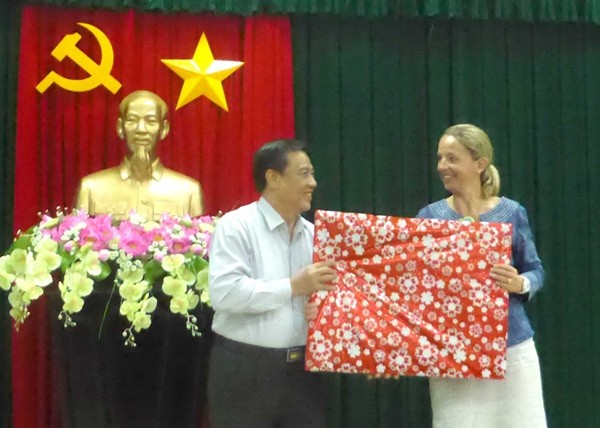 Vice Head of the Southwest Steering Committee Nguyen Trung Hieu offers a souvenir to the first Political Counsellor European Union Delegation Mrs. Delphine Malard.
On behalf of the EU delegation, Ms. Delphine Malard strongly affirmed that the Mekong Delta region is an important partner in relations with both EU and its member nations in fresh fruit, seafood and rice provision. Thereby, the EU and its member countries will increase assistance and cooperation with the local authorities and relevant agencies in dealing with climate change in next time.
Recently, the EU has provided 90, 000 Euro for seven Mekong Delta provinces effected by saltwater influx.
Earlier, the Political Counsellor European Union Delegation and it member nations visited Khmer ethnic groups at Dinh Hoa commune, Go Quao district and the GIZ Kien Giang Project.