The European Union (EU) remains one of Vietnam's leading providers of development assistance, with a total of 680 million EUR (972.3 million USD) in 2011.
That was confirmed by Sean Doyle, Ambassador-Head of Delegation of the European Union to Vietnam, in Hanoi on June 2 at a ceremony to launch the Blue Book 2011, an annual report on EU development cooperation in Vietnam.
The Ambassador also said the EU would provide 15 million EUR to Vietnam in 2012 to help the country implement WTO commitments and trade negotiations, and help businesses solve problems on food safety and hygiene.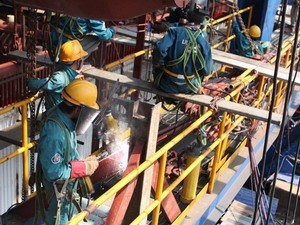 Vietnam News Agency file photo of the construction of Vung Ang Thermo Power Plant in the central province of Ha Tinh
Also attending the ceremony, Lis Rosenholin, Danish Counselor, Vice Ambassador to Vietnam, said that from now to 2015, besides assisting poverty reduction in Vietnam, Denmark would also assist the private sector.
She added that Denmark would help Vietnam develop agriculture, assist Vietnamese small and medium enterprises and poor provinces to reach the market and raise competitiveness in a better environment.
The Blue Book 2011 provides a snapshot of development cooperation between the European Union and Vietnam, outlines its main development policies – primarily poverty eradication – and provides concrete data on EU disbursements and commitments in 2010.
The book includes a feature on Aid Effectiveness in the context of the Busan High Level Forum on Aid Effectiveness scheduled for November 2011.
The event gives the opportunity for both the EU and Vietnam to take stock of progress achieved since the Paris Declaration and its local version, the Hanoi Core Statement, in the implementation of the Aid effectiveness agenda in Vietnam.
Aid effectiveness remains a priority, with Vietnam set to approve its new overall development framework this year, the Socio-Economic Development Plan for the period 2011-2015.