Ministry of Labour, Invalids and Social Affairs held a meeting yesterday to discuss findings of a report submitted by an inspection team sent by the ministry to check on salary disbursement in state-owned Vietnam Electricity Group (EVN).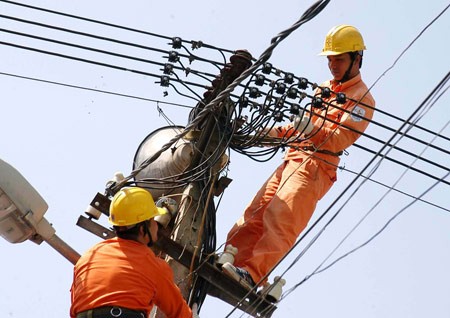 Despite operating at a loss, EVN still payed high salaries to their staff
A report was submitted by the inspection team sent by the ministry to check EVN and 25 of its associate companies from December 8, 2011 to February 13, 2012.
The report stated that the average income of a staff working at the holding company was VND7.6 million per month in 2010, VND7.3 million in 2009 and VND5.9 million in 2008.
The average salary of an executive employee of the group and its associate companies was VND7.45 million per month in 2010, VND7.06 million per month in 2009 and VND5.79 million per month in 2008.
The annual bonus for an employee was VND135,000 in 2008 and VND244,000 in 2009.
In 2010, the group posted losses, but an employee still received an average bonus of VND178,000.
The inspection team proposed a salary payout according to ability, productivity and effectiveness.
Earlier, Pham Le Thanh, EVN general director told the National Assembly in a meeting that 'the average income of an employee in EVN is VND7.3 million per month, which is not enough for a person   living in an urban area.'
According to a report by the State Audit Agency, there are three average rates of salary in EVN - VND7.9 million per month for the electricity distribution sector; VND10.8 million for the power transmission units; and VND13.7 million, the highest, for staff working at the holding company.
Meanwhile, last year, the average salary of an employee in State-owned enterprises was just VND3.8 million per month and that of a worker in a textile and garment company even lower, at VND2.1-2.3 million per month.
By the end of 2010, EVN sank a total of VND2.44 trillion (US$117.1 million) in investments into EVN Telecom, while also covering expenses of more than VND1 trillion to supply terminal devices for the telecom sector.
EVN also had a total investment of VND2.1 trillion in four other areas, including real estate, insurance, banking and finance, amounting to 3.27 per cent of its equity.
According to the 2010 audit results of EVN, the state-run enterprise suffered a total loss of VND8.41 trillion, while in 2011 it was nearly VND17 trillion.