The Vietnam Electricity (EVN) group sent an urgent dispatch July 1 to electricity companies, instructing them to stop cutting off power to localities immediately.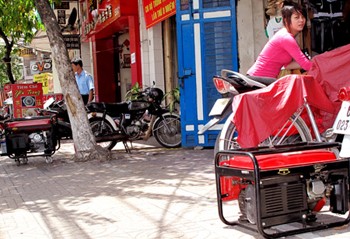 Residents use generators to cope with regular power failures on Nguyen Trai Street in District 5, HCMC (Photo: SGGP)
According to EVN, the power supply now has considerably improved, as northern regions have received rain, raising the water level of reservoirs used by hydropower plants.
Repairs and maintenance to thermal power plants are now complete, allowing them to resume operations, while the importation electricity has also increased.
As a result, EVN demanded power corporations only cut off power when conditions render outages an absolute necessity.
Consumer demand for power will continue to skyrocket in July, approximately 18 percent higher than for the same period last year. Average output levels may reach 297 million kwh a day, according to the dispatch.
Ho Chi Minh City still experienced regular power outages in several areas July 1. The ongoing situation contradicts EVN forecasts made late last month, which claimed that blackouts would gradually reduce by July.
Residents in many areas of districts 8, 12 and Go Vap lamented blackouts that have been occurring twice a week, typically from 7am to 5pm, since the beginning of May, forcing them to use power generators.
Nguyen Thi Lan, owner of a sport instrument shop in Nguyen Trai Street, District 5, said that the regular power outages sent her out to buy a generator costing VND18 million (US$950). The machine consumes 20 liters of petrol for 8 hours of operation, she said.
According to the schedule for blackouts set forth by HCMC Electricity, the power blackouts will continue as they have been, twice a week for about 12 hours a day, burdening wide areas of the city, including districts Binh Chanh, Cu Chi, Hoc Mon, 12, Binh Thanh and Phu Nhuan, from July 7-13.
Related article:
EVN expects power cut to end in July