The time is right for Viet Nam to pursue greater development as foreign investors show unprecedented interest in the country, said US Ambassador to Viet Nam Michael Marine in Ha Noi yesterday.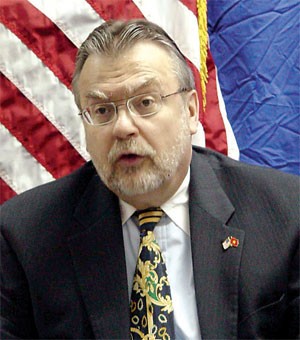 US Ambassador to Viet Nam Michael Marine

After holding the 14th APEC Economic Leaders' Meeting and achieving accession to the World Trade Organization (WTO), now is the best time so far for the country to integrate more deeply into the world economy, the Ambassador said.

He added that while Viet Nam should seize the opportunities at hand, care should be exercised to ensure that commitments to the WTO are implemented and newly-enacted laws be put into motion.

The Ambassador spoke highly of progress in Viet Nam-US relations over recent years, calling them dynamic, vivid and active, especially in the areas of trade, investment and the exchange of high-level visits.

He said the challenge now for both countries will be to keep that momentum going through the coming year, a year that will see even more significant events including a visit to the US by State President Nguyen Minh Triet.

Mr. Marine predicts that US investment into Viet Nam will double in 2007 as three or four major projects are implemented and President Bush signs the Permanent Normal Trading Relations (PNTR) bill for Viet Nam in mid-January, 2007.