Despite measures taken by police to prevent cigarette trafficking across the country, various kinds of foreign cigarettes have still been illegally smuggled into Vietnam by land and by water via the border along Tay Ninh, An Giang, and Long An provinces.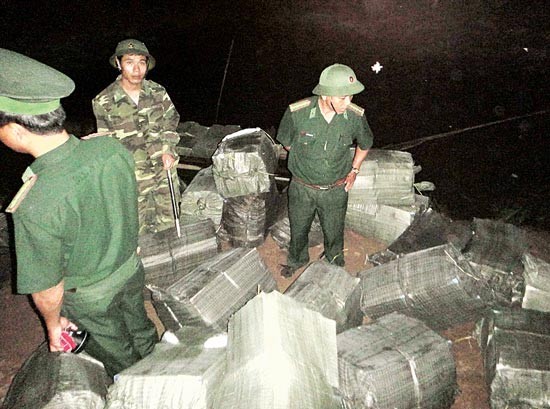 My Quy Tay Border Post in Long An Province's Duc Hue District catches 24,000 packs of smuggled cigarettes on November 16, 2014. (Photo: SGGP)
Moc Bai International Border Gate in Tay Ninh Province is one of hot spots for cigarette smuggling. Although it was just 7 o'clock in the morning, the border gate had been highly patronized. As soon as we entered a drink stall here, motorbike taxi drivers swarmed over us, asking if we wanted to go to Cambodia for gambling. We refused them by telling them that we had no passports. But Le Thanh Tai, a motorbike taxi driver, who lives in Ben Cau District of Tay Ninh Province, said that he could take us to Cambodia through another road without crossing the border gate at a cost of VND600,000 for a round trip.
We visited the drink stall of Mrs. Tran Thi Hoa, which is opposite the border gate, to learn about cigarette trafficking here. Mrs. Hoa sold a pack of Hero cigarettes to us at a price of VND20,000. In order to gain her confidence, we bought a carton of Hero cigarettes for just VND125,000 and three cartons of Jet cigarettes for VND152,000 each carton.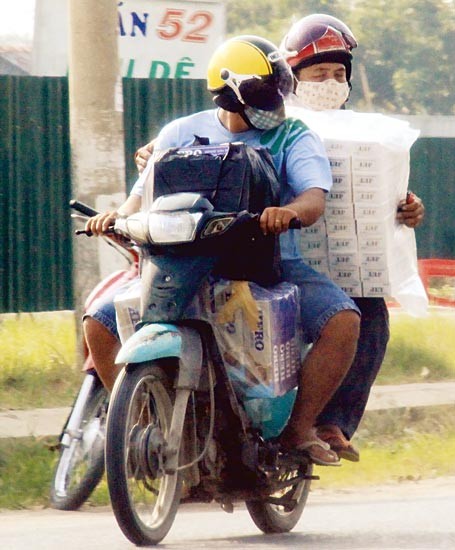 Traffickers transport smuggled cigarettes in Chau Doc City in An Giang Province. (Photo: SGGP)
We moved to another drink stall which is about 200 meters away from Mrs. Hoa's one and asked to buy a carton of British Blend No. 555 Gold cigarettes. Mrs. Tam, the stall's owner, told us that a carton cost VND310,000 but if we bought three cartons she would lower the price to VND308,000 per carton. She added that if we wanted to buy more we would have to wait about 30 minutes; otherwise we could visit other groceries where we would find various kinds of foreign cigarettes.
In summary, as long as you have money, you can buy any kind of smuggled cigarettes here.
Audacious traffickers
Around Moc Bai Border Gate, there are many spots where traffickers gather cigarettes. At night, they will transport cigarettes to other provinces. Jet cigarettes costs VND152,000 per carton at the border gate but the price rises by VND10,000 per carton when they were transferred to Go Dau Town which is about 10 kilometers away from the border gate. After that, traffickers transport cigarettes to Ho Chi Minh City by motorbikes. They usually transport cigarettes in groups of 5-6 motorbikes. If they are caught by police they will dump both their motorbikes and goods. They earn about VND4-5 million from each trip. In HCMC, the price of Jet cigarettes climbs to VND185,000 per carton while that of Hero cigarettes surges to VND150,000 per carton.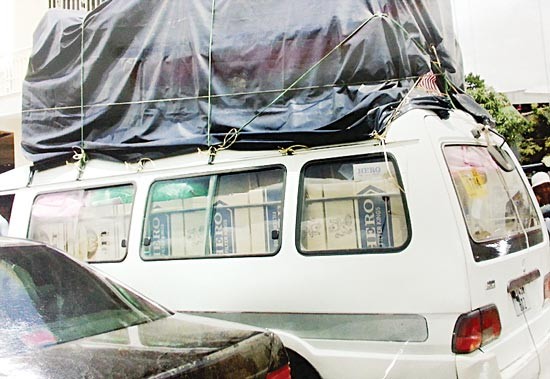 A van carrying cigarettes from Phnom Penh to Xa Mat Border Gate in Tay Ninh Province. (Photo: SGGP)
Along the border from Tay Ninh Province to Kien Giang Province, there are several hot spots for cigarette smuggling. At Phuoc Chi Border Gate in Trang Bang District of Tay Ninh Province, cigarette traffickers pretended to be gamblers to go to Cambodia then transport cigarettes back to HCMC. Cigarettes were transferred to the vehicles of "these gamblers" which were waiting at car-parks along inter-provincial road 876.
Meanwhile in Long An Province, smuggling often occurs at Tan Hung, Vinh Hung, Moc Hoa, Kien Tuong, and Duc Hue border gates. A part of smuggled goods, mainly cigarettes and alcohol, via Tan Hung, Vinh Hung, Moc Hoa, Kien Tuong border gates, was transported by coaches to Tan An City then to HCMC. The rest was moved to the vehicles of gamblers to send to Tien Giang, Dong Thap and Ben Tre.
As for smuggled goods via Duc Hue Border Gate, traffickers used motorboats to carry smuggled goods to Duc Hoa Districts then to HCMC on Saturday and Sunday nights. Traffickers mainly smuggle cigarettes on this route, especially during year end, thus it was considered as cigarette road in Long An Province.
Big profits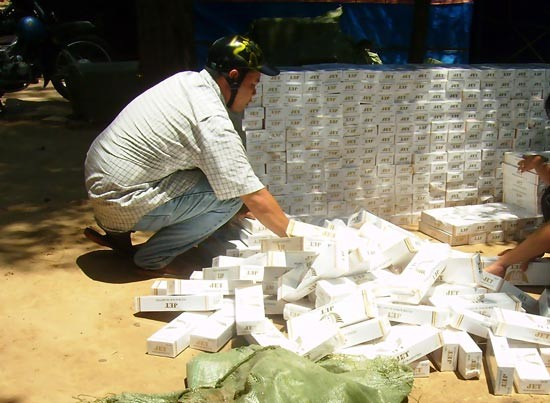 A van carrying cigarettes from Phnom Penh to Xa Mat Border Gate in Tay Ninh Province. (Photo: SGGP)
On Jan 8, police caught Nguyen Van Toi, 43, a cigarette smuggler kingpin on this route, red handed for smuggling cigarettes with exhibits of more than 52,000 packs of cigarettes, 22 motorbikes and two motorboats. According to an informant, Nguyen Van Toi had smuggled cigarettes for years but he was never caught.
Tu R., a former trafficker in Duc Hue District of Long An Province, said that big profits allure traders deep into smuggling.
 
Indeed, cigarette smuggling is a typical example. Smuggling sugar brings a profit of VND1,000-2,000 per kilogram. Meanwhile, a pack of cigarettes gives a profit of VND8,000-10,000. According to Vietnam Customs, cigarette smuggling has caused a budget loss of nearly VND10 trillion.