Ministry of Information and Communications in collaboration with the People's Committee of Quang Ngai province opened an exhibition entitled 'Paracel, Spratly Island of Vietnam- historical and legal evidences' at Quang Ngai Museum on July 1, introducing ancient maps, documents to domestic and international visitors.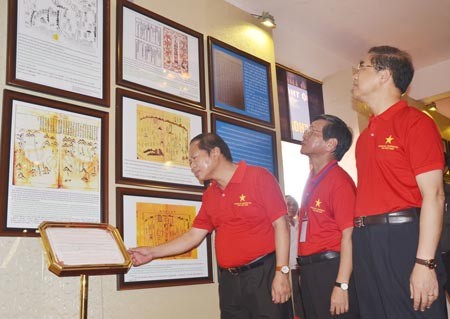 Crowded people and scholars attend in the exhibition (Photo:SGGP)
The exhibition displayed nearly 100 ancient maps and over 60 documents, historical evidences in order to affirm strongly Vietnam's sovereignty over Paracel and Spratly Island.
The maps and documents were collected by Vietnamese and foreign researchers, including Chinese scholars that contributed to prove Vietnam's sovereignty over the two islands.
Quang Ngai is the ninth provinces where the ministry organized the exhibition with the same topic.
In Quang Ngai province, the exhibition will be held at two locations, including Quang Ngai City and Ly Son Island district. The exhibition will be lasted July 6.
After the exhibition, the ministry will present total entries, maps, photos and documents to the People's Committee of Quang Ngai province.
The exhibition has attracted the large number of people and scholars.
On this occasion, the ministry, Vietnam Posts and Telecommunications gifted and offered scholarships to soldiers and their children, who live and work in Ly Son Island.