An exhibition on historical and political evidences affirming Vietnam's sovereignty over Paracel (Hoang Sa) islands was inaugurated on Monday in the central region city of Da Nang.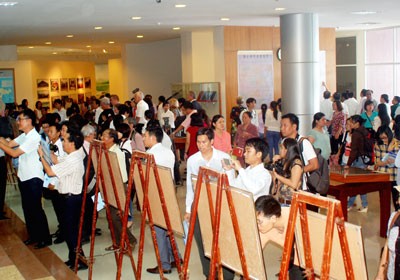 Visitors watch old maps of Vietnam and China displayed in the exhibition on April 29th, 2013. (Photo:SGGP)
The exhibition showcases four sources of invaluable documents including texts, images, maps and audio and visual materials related to the islands in the East Sea. There are 30 maps published by The UK, Germany, Australia, Canada, the US and Hong Kong from 1662 to 1980. All of the maps affirm China's southernmost point is Hainan Island and Paracel and Spratly (Truong Sa) archipelagoes over that both Vietnam and China have announced sovereignty belong to Vietnam.
Documents attracting most audiences are atlases published during the China's Qing Dynasty including Chinese Location Map in 1908, Chinese Post and Location maps in 1933 and 1919, Chinese Provincial Map published by China's Shanghai Publisher in 1904.
The exhibition also displays documents on Paracel Islands preserved by the Republic of Vietnam (South Vietnam) from 1954 to 1975.
Several worthless maps were granted to the Government by individuals such as Mr. Tran Thang who is the president of Institute of Vietnam Culture and Education in the US, cultural researcher Nguyen Ngoc Hong…
Visitors can learn about the Vietnam's sovereignty over Paracel Islands in Vietnamese, English, French, Russian, Chinese, Japanese, Korean and Thai.
This is the second time Da Nang city showcased the forceful evidences on Paracel islands.
On this occasion Dang Nang citi invited reporters from foreign 26 news agencies and media organizations such as Reuters, AFP, AP, Itar-Tass, NHK, Yonhap… Among them are People Daily, CCTV, Economic Daily, China News Agency from China and CAN from Taiwan.