Russia's Vietnamese community is up in arms following Tuesday's acquittal of 17 young men charged with murdering a Vietnamese student in Saint Petersburg.
Vu Anh Tuan

The jury dismissed 40 of the 41 charges out of hand and said there was insufficient evidence to convict the defendants, who walked away from the court free men.

Lawyers for the family of the murdered student, Vu Anh Tuan, said they would appeal the verdict as it flew in the face of all the evidence.

The Vietnamese community in Saint Petersburg and indeed all of Russia is shocked by the acquittal.

While the murder aroused a wave of criticism against the Saint Petersburg authorities for its ineffective measures to protect expatriates, the trial verdict has put into question Russia's justice system itself.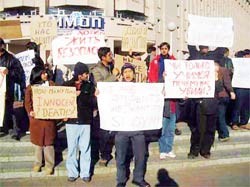 Vietnamese students demonstrate in the streets of Saint Petersburg after the murder of Vu Anh Tuan
The prosecution laid charges two years after the murder, which sparked great indignation on the part of expatriate students in Saint Petersburg, especially the young Vietnamese.

In the two days leading up to the verdict, Vietnamese students gathered in front of the court confident of a harsh sentence for the ruthless murderers.

Russian media devoted much time and space to the trial. After the verdict came out, the media drew the obvious comparison with the not guilty verdicts that followed the murders in Saint Petersburg of a Tajikistani young girl and a Congolese student. 

Related articles:
Murder Trial Ends with 17 Guilty Verdicts
Defendant Retracts Confession in Murder Trial