No matter which country they live in, Vietnamese people can still enjoy traditional cakes on Tet (lunar New Year) as more companies step up their exports.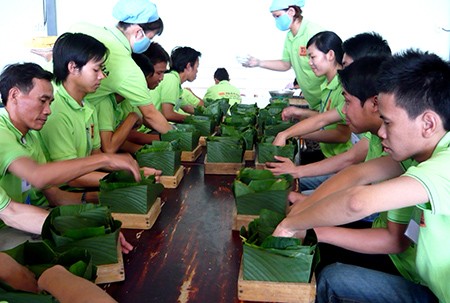 Employees of Tran Gia factory in Bien Hoa town in Vinh Cuu district in the southern province of Dong Nai step up their export production of banh chung (Traditional cake made from glutinous rice)
Since last November, two factories of the Tran Gia Company in Bien Hoa town in Vinh Cuu district in the southern province of Dong Nai have stepped up their export production of banh chung. Groups of workers are absorbed in various stages of preparation.
While one group cuts phrynium leaves, another splits bamboo into strips and yet another group bakes banh chung (Traditional cake made from glutinous rice) which is then packaged by yet another group.
Tran Thanh Toan, owner of Tran Gia Company, claims he has already shipped 23 tons of banh chung and banh tet (cylindric glutinous rice cake) to France and four tons of phrynium leaves to the US. Orders for banh chung have doubled since last year.
Mr. Toan had to employ more than 500 workers to complete the orders for cakes for export and for supermarkets within the country. The delivery time is normally 45 days in his factory. His employees pay great attention to detail in making the cakes, which is sold in vacuum packed packages of 1 kilogram-1.5 kilograms with a shelf life of about six months.
At another factory, that of the Hai Minh Company in Cu Chi district in Ho Chi Minh City, workers are rushing to meet orders before Tet. This year the company will export some ten containers of traditional Tet specialties like cu kieu (pickled scallion heads), ca mam (preserved salted egg-plant), sour shrimps, pickled small leeks and girdle-cake to the US, Australia, New Zealand and Europe. Nguyen Van Vui, the company's representative, said that exports continue to grow as their products gain popularity within Vietnam.
Export Goods Processing Company, Cau Tre in Tan Phu district and Thanh Long Bakery in district 3 are also exporting dried fruit candy and confectionery for Vietnamese consumers in oversea countries.
The frenzy to complete orders for exports before Tet can also be seen in Ly Nhan district in the northern province of Ha Nam, which started production as early as last October.
Fish cooked with sauce was once only eaten by Vietnamese people in the rural regions. However, it has become a staple must in a Vietnamese meal. Residents of the Hoa Hau commune use only black carp (amur) to cook the special fish with sauce for exports.
The fish head and tail are cut off, but the scales are kept to dry. The fish is then seasoned and cooked in earthenware pots made in pottery kilns in the northern provinces of Thanh Hoa and Nghe An.
Workers in export factories layer the fish with a large slice of galanga to prevent the fish from burning. Pork chops are added to the pot to make the fish taste buttery. Water is never added into the earthenware pot but salt, essence, lemon juice, fresh chilli and some traditional spices which remain a trade secret are added.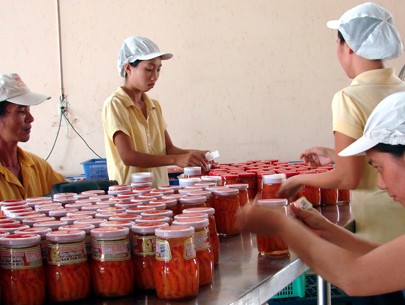 Workers in Hai Minh factory pack ca mam (preserved salted egg-plant) for exports
The fish is cooked over a wood fire or fire made of rice straw or dried grass which cooks the fish on a simmering and slow fire from ten to twenty hours which makes the fish bone soft.
Vietnamese people living in overseas countries have always purchased earthenware pots for cooking fish as gifts to give to friends and relatives when returning back to foreign countries. These pots are gradually becoming popular with non-Vietnamese as well.
Some 20 households in the district earn their living making these pots. The villagers made over 12, 000 fish earthenware pots last year and earned more than VND3 billion from exports. Tran Xuan Thuc, owner of Phong Thu workshop in Hoa Hau commune said the orders came mainly from Hanoi, Ho Chi Minh City and the Northern Province of Nam Dinh as well as from countries like Germany, Russia, Italy and China.
Meanwhile, Tran Ba Nghiep, Tran Luan's processing company promotes fish cooked with sauce and other local specialties on its website www.amthuccotruyen.com.

The company plans to sell over 1,000 fish earthenware pots to its agents in HCMC, Vung Tau the Northern provinces of Quang Ninh and Hai Phong and in some other parts of the world.
Exporters have to travel around the country and to the northern province of Ha Nam to place orders to fish breeders and to ask them to choose good fertilizer to feed their fish in their ponds in order to prepare the supply of good quality fish with sauce for exports.
Mr. Thuc revealed that people must cook porridge in the pot before cooking fish, to increase the durability of the pot. Fish cooked with sauce made by villagers can stay for one month if kept at a low temperature.
The cost of a pot depends on the weight; for instance, a 5 kilogram pot could cost about VND650, 000, a 3.5 kilogram pot about VND500, 000, and a 2 kg pot about
VND350,000.
The Hoa Hau commune's Peoples Committee encourages residents to take up the job of making pots as a profession, because the commune has over 140 hectares of ponds and skilled labor. The product is packaged carefully with a brand name, ingredients and recipe for cooking.
Tran Thanh Toan of Tran Gia Company lays great emphasis on taste as well as packaging as his customers abroad want to buy attractive gifts to offer at the alter.
Expatriates feel a bit less nostalgic when they see Vietnamese traditional cakes on the shelves in supermarkets in the US, Australia and Europe. Moreover, traditional Vietnamese specialties have contributed to a wider exposure of this Southeast Asian nation's culture and cuisine.