For the past several years, social security has been paid little attention and the situation needs to be improved to ensure a sustainable socio-economic development, said experts at a meeting on social security in HCM City on May 8.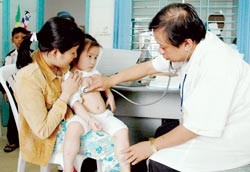 A doctor examines a child from a poor family. Many experts said the State should invest more in social welfare, including healthcare. (Photo: SGGP)
Due to attaching much importance to economic growth, social security has been left behind, experts agreed at the event, which was held by the HCM City Union of Science and Technology Associations.
Dr Pham Minh Tri, chairman of the HCM City Economic Science and Management Association, said, "The country now has 61 districts with a poor-household rate of over 50 percent. Therefore, we should see social welfare policies as important as economic stimulus solutions. And such policies should be adopted effectively."
In the ongoing global economic turmoil, social security policies should target laid-off workers and poor people badly affected by increased prices of goods, he pointed out.
"If social security policies were not carried out efficiently and if people's lives were not improved, then how much the economy would grow could become insignificant," he emphasized.
"The State, businesses, and workers are three 'pillars' to support social welfare, with the State holding a decisive role," according to Dr Nguyen The Nghia, vice chairman of the HCM City Union of Science and Technology Associations.
"The State should provide 'support packages' in terms of loans to help businesses expand investment and to improve public spending," he said.
"Businesses should make the best use of its internal resources and use such loans efficiently to improve their operating results.
"Workers should help themselves by improving their knowledge and skills to meet requirements of the labor market," he said    
Despite an economic recession, the price of gasoline, oil, electricity and water have continuously increased, affecting people's living conditions, said Dr Nguyen Mong Hung, chairman of HCM City Consumer Protection Association.
He suggested the Government should consider a reduction in prices of essential items and a cut in business tax to boost consumer spending.
"The State should invest more in social welfare," he concluded.
The implementation of social welfare policies, including wages, housing, social grants, unemployment allowances, healthcare and education, must be speeded up, Le Hieu Dang, vice chairman of the HCM City Fatherland Front Committee, said.
The Government has a responsibility and obligation to give people access to cheaper healthcare and education, he emphasized.
"To increase investment in the two fields, the struggle against corruption, extravagance and ineffective public investment must be strengthened," he added.