In these days, farmers in the Mekong delta are busy taking care of the orchard and getting ready for big sales in Ho Chi Minh City for the Lunar New Year festival that falls on February 19.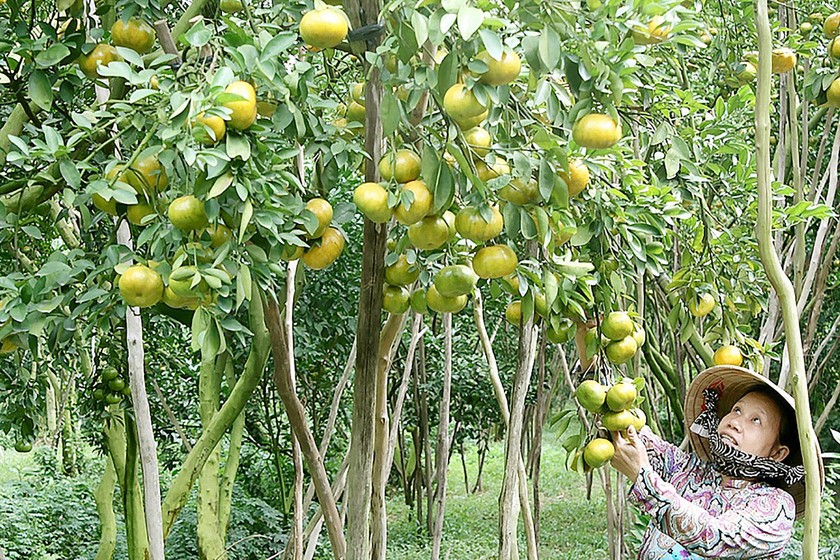 A farmer with her mandarin tree laden with fruits (Photo: SGGP)
Mandarin of Lai Vung District of the Mekong delta province of Dong Thap is famous for its quality and beautiful features and red color which people prefer to display in a tray in the altar in the first days of the year ( as per the conception that red brings prosperity for the family).
Farmers are busy pruning and fertilizing their orchard plants and mandarin trees are heavily laden with fruits in communes Long Hau, Tan Phuoc and Tan Thanh.

Luu Van Tin in Long Hau Commune in Dong Thap Province eagerly said that traders from Ho Chi Minh City, Tien Giang, An Giang, and Can Tho have poured in Lai Vung for the fruit.
Last month, the fruit was sold at VND20,000-22,000 (US$16.9-18.6) but now it is surged to VND26,000-28,000 (US$22-23.7), bringing a huge profit to farmers.
Tin has 6,500 square meter orchard of mandarin. He will earn around VND1.4 billion (US$ 1.2 million).

Similarly, pomelo farmers in the Mekong delta provinces also have netted much with the fruit. Farmer Dang Van Nam who has 15,000 square meter land of pomelo in Ke Thanh Commune of Ke Sach District in Soc Trang Province is happy saying that traders from HCMC asked to buy the fruit at the price of VND55,000 (US$ 46,708) per kilogram. He netted VND800 million (US$679 million) it is a big amount for farmers in the region.

Though there is an increase in price in the market for fruit, its productivity decreased drastically due to bad weather. Farmer Dang Van Long in Tan Thanh Commune in Dong Thap said that farmers should pay attention to quality rather than quantity.
Mai Quoc Hau, head of the Department of Agriculture and Rural Development in Lai Vung District said that though the department verified the tangerine is the major fruit of the province yet local authorities will not encourage farmers to increase land for planting the fruit.
The provincial managers are working on plan to popularize the technology as per VietGAP to the Mekong Delta's farmers and wishing to balance between the supply and the demand to ensure farmers' profits.