On the occasion of Buddha's 2553rd birthday, the 15th of the fourth lunar month (May 9), the chairman of the Vietnamese Fatherland Front sent a letter to the Buddhist community, wishing them peace and good health.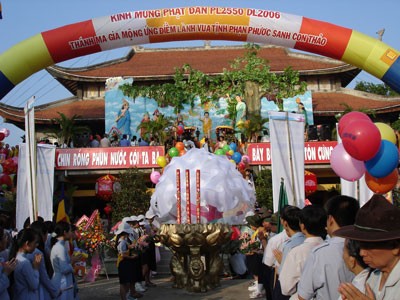 Buddhist followers attend a ceremony to mark the Buddha's birthday at Vinh Nghiem Pagoda in HCM City (Photo: U. Phuong)
In the letter, Mr. Huynh Dam recognized the contribution of the Buddhist Sangha to the country's social and educational development, as well as the promotion of the strength of national solidarity.

Thanks to the tradition of engaged Buddhism, said Mr. Dam, Buddhist monks and nuns in the country have guided lay-members and believers to live moral and useful lives.

He said he trusted that as a member of the Vietnamese Fatherland Front, Vietnam Sangha will continue its role as a worthy national defender and protector of the people, so that Buddhist nuns and nuns will always be respected "fellow-travelers" in the country.