According to data from the Foreign Investment Agency, the registered capital of foreign direct investment (FDI) projects to Vietnamese posted an increase of 12.5 percent last year to reach US$22.76 billion.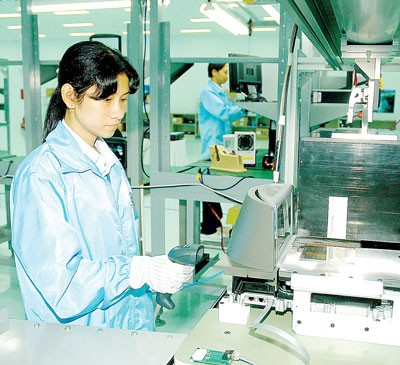 Workers at a FDI firm in Vietnam (Photo: SGGP)
Disbursement rate was up 17.4 percent to hit the highest ever number of US$14.5 billion, US$0.5 billion beyond expectations.
 
In addition the Management Board of the Saigon Hi-Tech Park on December 29 gave adjusted investment certificate to Samsung CE Complex project, which will raise investment capital by US$600 million to US$2 billion.
 
In the first four months of 2015 FDI attraction was ploddingly reaching only US$3.72 billion, a reduction of 23 percent over the same period last year. The down trend continued in two following months to hit 20 percent and 30 percent respectively. Total registered capital was only US$3.9 billion in the first half of the year.
 
The condition started improving since July and spurting in the following months with many large projects creating a bright complexion for the year.
 
Of the large projects, the People's Committee in the southern province of Binh Duong granted investment license to Taiwanese Cheng Loong Group early December to build an US$1 billion industrial packing plant with the capacity of one million tons a year.
 
That was the fourth billion dollar projects after US$3 billion Samsung Display in the northern province of Bac Ninh, $1.2 billion De Vuong city in Ho Chi Minh City and US$2.4 billion Duyen Hai 2 thermal power plant in the Mekong Delta province of Tra Vinh.
 
Professor Nguyen Mai, chairman of the FDI Enterprises Association, said that Vietnam has still been a destination chosen by many foreign investors.
 
The record high disbursement rate shows that foreign businesses really want to invest in the country in long term and their positive investment effectiveness, he added.
 
Bright forecast
 
Vietnam has officially attended the ASEAN Economic Community, the Trans-Pacific Partnership (TPP) has been signed, negotiations of Vietnam-EU FTAs have wrapped up, and many other free trade agreements (FTAs) including Vietnam-South Korea FTA have been signed and taken effect.
 
Basing on positive signs of the country economy many local and foreign economists have forecast that FDI capital will continue flowing into Vietnam in 2016 and following years. Garment and textile and support industry will be the most attractive fields.
 
Vietnam is in front of an important turning point in which supply chains are moving from one place to another across Southeast Asia, according to expert Fred Burke from the Investment and Trade Working Group of the Vietnam Business Forum.
 
Thanks to TPP, EVFTA and other FTAs many international groups have considered removing their plants from other countries into Vietnam, which will bring millions of jobs, tax and technology transfer.
 
State management should improve more to receive these FDI flows and turn them into specific socioeconomic achievements, he said.
 
Regulations limiting import of secondhand machines will raise difficulties to investment projects especially those in support industry, he added. Although the Ministry of Science and Technology has issued Circular 23 to replace the previous one but the circular doesn't take off barriers that prevent businesses and investors from contacting new high-tech.
 
Director of the World Bank in Vietnam Victoria Kwakwa said that the Government should divest from unnecessary fields to make room for major economic sectors.
The decision to completely withdraw capital from Vinamilk is a step toward this direction. If Vietnam conducts similar steps, it will help establish a dynamic non-state economic sector.
 
Besides the country should build a professional public administration apparatus as its public administration reform has yet to show clear results, she said.