Deputy Prime Minister Vu Van Ninh has agreed to increase fees of more than 400 medical services out of a total 3,000 currently in practice in public hospitals, and accordingly asked the Ministry of Health to complete all procedures by the end of February.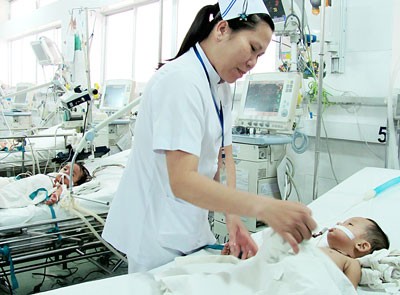 File photo shows health care at a hospital in Vietnam
As per the new hike, many of the medical services will increase fees up to five times from their current rates.
Deputy PM also asked related ministries to inform people and the   press of the increase in hospital service fees, adding that it is also necessary to strictly monitor the Health Insurance Fund to reduce waste and loss.
By the end of 2011, there were 57 health insurance participants, who compelled people in such sectors as agriculture, forestry and fishery to join.
For many years now, the Vietnam Social Insurance has been paying 60 per cent of the medical fees for citizens nationwide.
Nguyen Nam Lien, deputy head of the Financial Planning Department under the Ministry of Health said that fees for hundreds of health services had not increased since 1995, while fees for about 2,650 other services were static since January 2006.
Related article:
Most hospital services to increase fees